Nuun Is Climate Neutral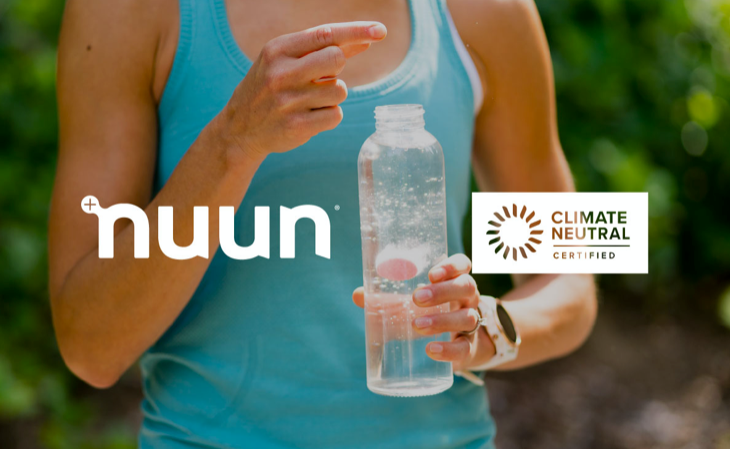 In our ongoing efforts to reduce Nuun's impact on the planet, we are pleased to share that Nuun is Climate Neutral Certified for the fourth year in a row. This certification is the result of our ongoing commitment to support the environment and communities in which we live. In partnership with non-profit organizations including Climate Neutral & the Sustainable Food Trade Action Council we were able to assess the carbon footprint of our manufacturing, operations, and shipping processes. With that knowledge in-hand we have been working to reduce our carbon emissions. We have also purchased carbon offsets which support projects that remove carbon from the atmosphere or prevent emissions in the first place. The Climate Neutral Certification is also indicative of our commitment to reduce future emissions and the plans we have to support sustainability.
Nuun's corporate values are based around three pillars: Clean Product, Clean Sport, and Clean Planet. Internally, we have a group of employee volunteers who comprise a Clean Planet Task Force. They lead initiatives and investigate opportunities for our brand to reduce our impacts to become more sustainable. Our partnership with Climate Neutral is just one of the many ways we are working to be part of the solution for the ongoing climate crisis, and while we are very proud to be able to call ourselves Climate Neutral Certified. Today, we consider this to be just one more step in an ongoing journey towards a more sustainable business model.
FAQs
What does it mean that you are Climate Neutral Certified?
Climate Neutral is the leading consumer label designating carbon neutrality. It is carried by brands that have voluntarily stepped up to take responsibility for the greenhouse gas emissions generated in the production, operations, and shipping of their goods and services. You can learn more at www.climateneutral.org
What is a carbon offset?
A carbon offset is a reduction of carbon emissions to compensate for an equal amount of emissions from another source.
How long is our certification valid? Is it a one-time thing?
Certifications are valid for up to one year before a brand needs to re-certify. A brand certifying for 2021 emissions will become certified in early 2022. Annual recertification ensures that brands remain focused on reducing their carbon emissions and stay current with removing/offsetting the carbon emissions they generate. You can see Nuun's public disclosure of our greenhouse gas emissions, offsets and reduction plans are at: https://www.climateneutral.org/brand/nuun
What are your plans for more sustainable product packaging?
We continue to actively research alternatives to our plastic packaging. Because of the temperature and moisture sensitivity of our products many of the conventional sustainable packaging options available are not viable. Despite the challenges, we are committed to finding an alternative to our current packaging because we recognize it as an essential element of embodying our Clean Planet values.