9 Back-to-School Essentials for College Students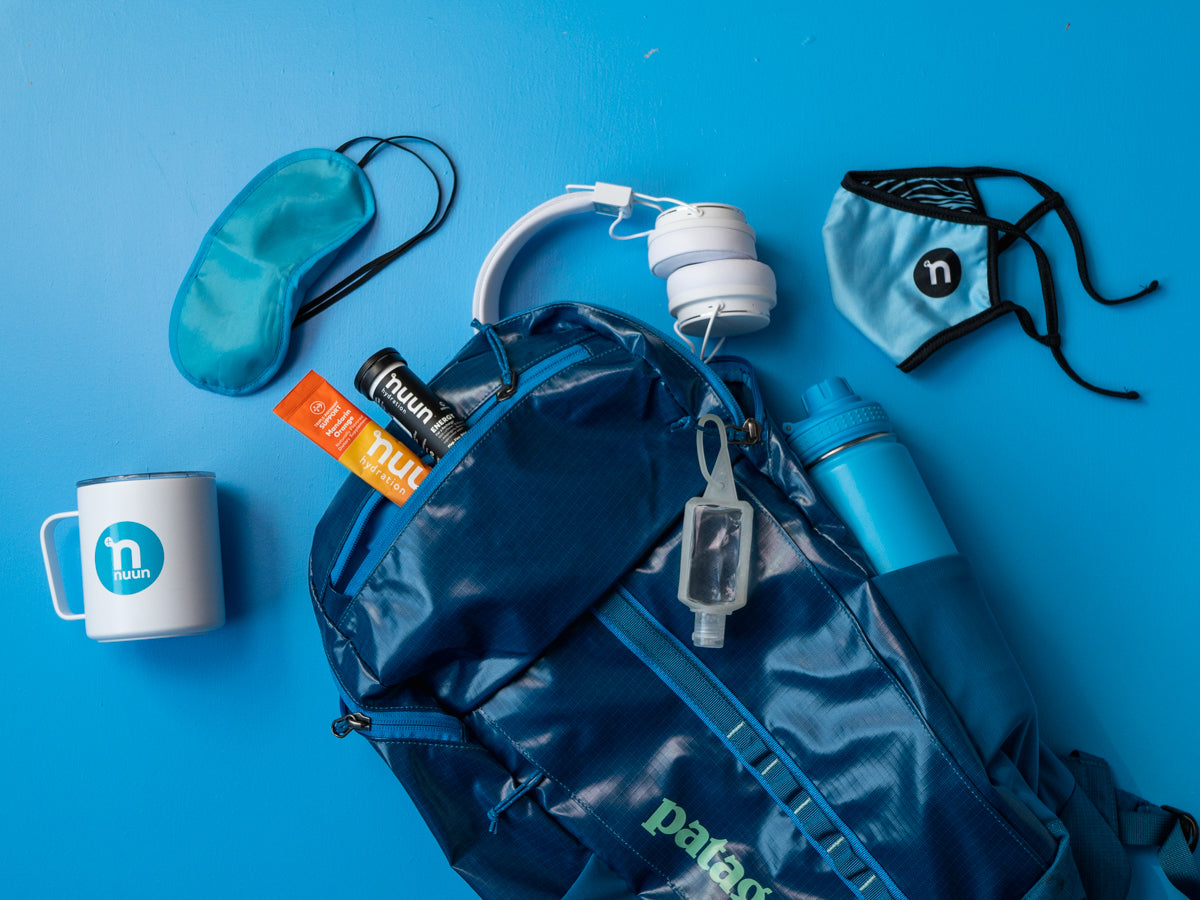 While we're past the days of shopping with our parents to get a frilly new polo for picture day, we still love heading into a brand new school year. Whether you're in kindergarten or college, who doesn't love planning out that glorious September outfit and getting excited about the fall?
For the college kids heading off to campus, we put together our top 9 essentials to get ready to go:
1.
Water bottle: For everywhere, all the time.
Each day of college life is unpredictable. You're hanging out on the quad, studying at the library, hitting the gym, back to your dorm, off to class, and then another, and so on. You're all over campus and the best way to stay on top of your busy day is to have a
trusty water bottle
. A healthy hydration routine is the #1 way to take care of yourself! 
2.
Mini hand sanitizer: To keep it clean.
 Pick one with a handy loop attachment so it's easy to keep on your person, on your bag, and go wherever you're off to. Use it before and after dining hall meals, workout seshes, using public transit, or just in case the restroom ran out of soap. (Psst…maybe you can sneak a refill at the college health center.)
3.
Nuun Energy
:
To focus on the prize.
You're eight words into a 2,000-word essay.
Yikes
. …it's due tomorrow morning and it's 11:56 pm now.
BIG yikes
. If you've got a
Nuun Energy
tablet, that assignment starts to look like an easier tackle. Packing a caffeine boost and ginseng (which supports normal cognitive health and may help improve focus), Nuun Energy is a plant-based choice to help you get the job done.
4.
Backpack upgrade
:
To get your back back.
You love the backpack you have right now, but the broken zipper, torn threads, and the worn-out straps…well, it's seen better days. When you set it down, it looks a bit sad, like it's…slouching. Now's the time to make the jump and find one that can help improve your posture, too. Waterproof? Holds a water bottle? Stands upright when set down? How's this possible?! The backpack future is here.
5.
Sleep mask: To sleep tight, anytime.
When the blinds in your dorm room don't cut it, or your roomie stays up all night — get yourself a reliable sleep mask so you can take those sweet, sweet naps in between class.
6.
Wireless headphones: Because dorms have papier-mâché walls.
Since we're on the "night-owl roommate" topic, grab some wireless headphones too. Listen to the calm winds of a faraway land, or a British voice guiding you along the banks of an ancient river…not "Taylor" fumbling around the mini fridge muttering that their frozen pizza bites are MIA. Sure you ate them, but you can worry about it after you get an amazing night's sleep.
7.
Nuun Immunity3: The true care package.
Honestly, dorms should just have dispensers of
Nuun Immunity3
on every floor. Full of vitamins, packed with electrolytes, feeds beneficial gut bacteria, and super tasty. It's exactly what you need to support healthy immune function while supporting healthy hydration too. Whatever
bees
knees
are? It's that.
8.
Mug: For all-day sipping.
Hey, we know you may not be allowed to have an electric kettle in your room but in case you know of someone who
might have one
it's good to have a reusable mug. Get one that's insulated AND has a lid (
we love this camp-style cup by MiiR
) so you can rush to class without causing a major spill. 
9.
Masks: For a nice change from the paper ones.
You'll probably spend a lot of time masked, so you might as well find some you really like. Stock up on new and exciting styles (
hello, Nuun face mask!
) to match your outfits or school colors on gameday, and grab plenty of extras so you can keep rotating clean ones while you put off doing laundry. Maybe you want to avoid running into somebody while you're crossing the quad? Face mask, sunglasses, headphones: that'll do.
Ready or not, it's time to get back on the grind! To all the students and teachers out there: Stay healthy, stay hydrated, and start your year off better than ever.