What Can Tart Cherry Do For You? Learn More About Its Many Benefits
Runners, health experts, and insomniacs all rave about tart cherry. So what makes this superfood so special?
The tart cherry is one of nature's great multitaskers. For such a small fruit, it boasts some serious benefits, like reducing inflammation, supporting muscle recovery after a workout, and improving sleep.
The secret is antioxidants. Think of antioxidants as the invisible armor you wear to face the world. Every single day, our bodies are put to the test against potentially damaging elements called free radicals. Free radicals include a wide range of factors like pollution, infection, sun exposure, alcohol, and even high blood sugar, but antioxidants act to neutralize them and keep our bodies in balance.
Get your daily dose of tart cherry's benefits with less sugar than fruit juice. Try Nuun Rest for better recovery and relaxation.
Get your daily dose of tart cherry's benefits with less sugar than fruit juice. Try Nuun Rest for better recovery and relaxation.
Antioxidants are not just nice to have — they're absolutely critical to our health. Without them, bodies are more susceptible to oxidative stress, an imbalance that occurs when damaging free radicals outnumber the healing antioxidants. The effects of oxidative stress can vary from accelerated aging to stroke to chronic inflammatory diseases.
Inflammation occurs as part of the body's natural healing process. When faced with an injury, illness, or toxin, the immune system responds with inflammatory substances to fight back and repair the problem. While the process is critical for the body's health, inflammation can also create acute and chronic conditions, like soreness after a workout or inflamed joints from rheumatoid arthritis.
Luckily for us, the preventative powers of antioxidants also happen to taste delicious. It's easy to incorporate more antioxidants into a wellness regimen by eating more plant-based foods — like the irresistible sweet-and-sour tart cherry.
"Antioxidants are not just nice to have — they're absolutely critical to our health."
Here are a few commonly asked questions about tart cherry's benefits, and the scientific studies to back them up:
What is tart cherry extract?
Tart cherry extract comes from Montmorency sour cherries, a varietal known for its sweet and sour flavor and deep red hue. The cherries are rich in anthocyanins, which are naturally occurring anti-inflammatory properties. Scientific studies have linked tart cherry extract to a range of benefits including faster workout recovery and better sleep.
What makes tart cherries so antioxidant-rich?
Tart cherries contain a special type of antioxidant that you can actually see. Colorful fruits and vegetables get their rich hues from anthocyanins, which also provide the impressive health benefits. This is true for all plants, so when it comes to picking produce, remember that bolder is better! Fruits and vegetables with deep, rich colors like blue, red, and purple will be naturally richer in antioxidant properties.
What are the benefits of tart cherry extract?
The antioxidants in tart cherries are scientifically proven to have anti-inflammatory properties, which can support a wide variety of acute and chronic conditions associated with inflammation. You may have heard the term "anti-inflammatory'' from medications like ibuprofen and aspirin that can reduce some symptoms associated with inflammation. Tart cherry extract contains anti-inflammatory properties naturally and can support the body in the important processes of neutralizing free radicals and preventing oxidative stress.
Tart Cherry Juice for Runners: Does It Really Work?
The purported benefits of tart cherry are well-known in the running community. But does it really work? One scientific study examined the use of tart cherry for muscle recovery following a strenuous workout. The results found that runners who drank tart cherry juice before and after a marathon showed improved markers of muscle damage, inflammation, and oxidative stress than runners who did not.
How can tart cherries help with sleep?
In addition to antioxidants, tart cherries contain naturally occurring amounts of melatonin and tryptophan, which are both associated with promoting sleep. Studies have shown that tart cherry extract can support sleep by reducing insomnia and night wakings.
How can I incorporate tart cherries into my wellness regimen?
If you'd like to add this superfood to your daily life, consider a concentrated form like tart cherry extract, juice, or powder. That way, you can maximize the health-boosting benefits without needing to eat dozens or even hundreds of cherries each day!
You can also enjoy tart cherry's benefits with Nuun Rest tablets. Whether you need a day of recovery after an intense workout or just a great night's rest, it's specially formulated with 200 milligrams of real tart cherry extract and other clean ingredients to help you wind down and bounce back.
No one food can create the balance our bodies need. But with their wide-ranging, well-studied benefits, tart cherries offer the perfect way to boost your antioxidant intake, support muscle recovery, fight inflammation, and sleep better.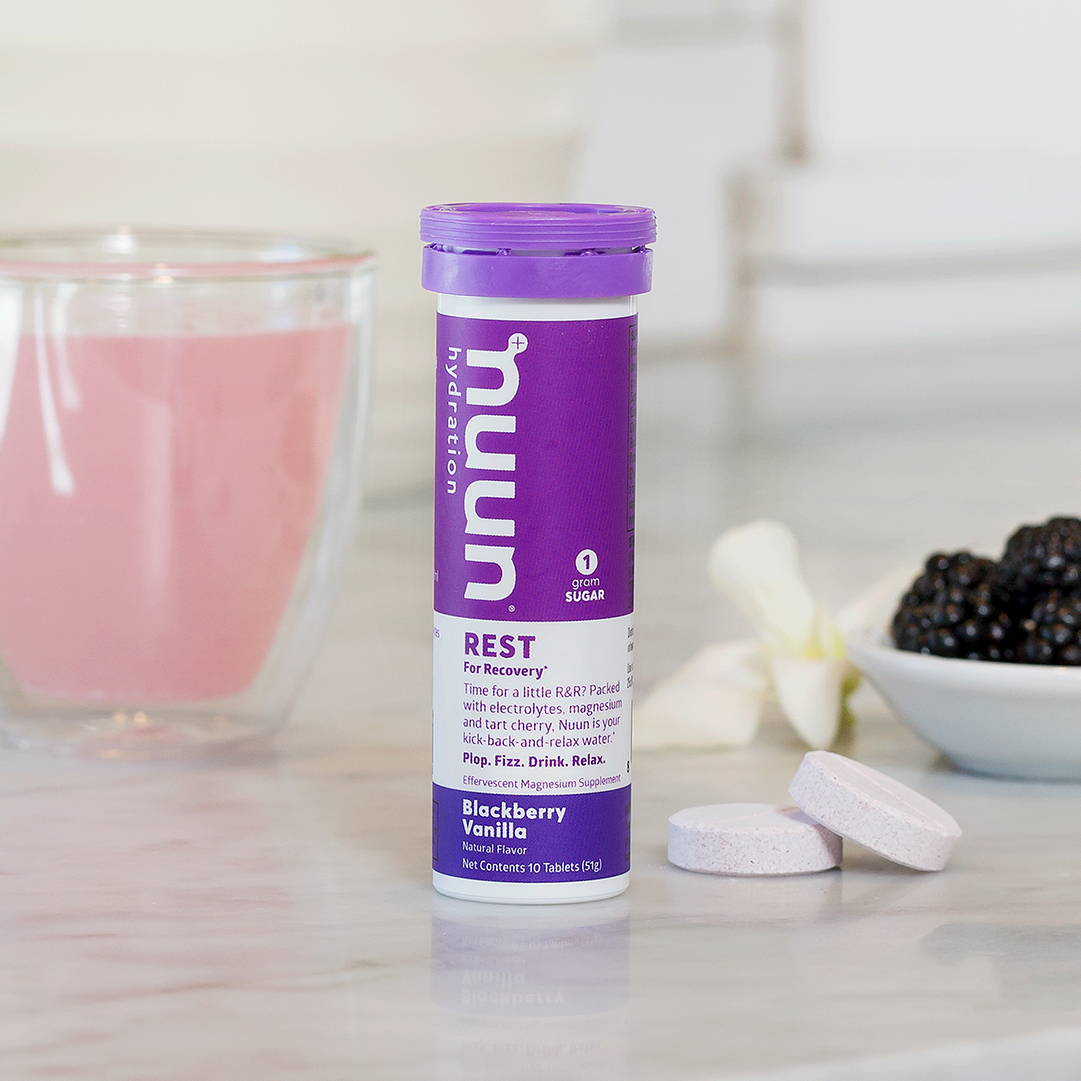 Give tart cherry a try with Nuun Rest, made with 200 milligrams of real tart cherry and carefully optimized to support your body's natural relaxation functions.
*These statements have not been evaluated by the Food and Drug Administration. This product is not intended to diagnose, treat, cure, or prevent any disease.