Buckle or Bust: Setting the Foundation - Part 2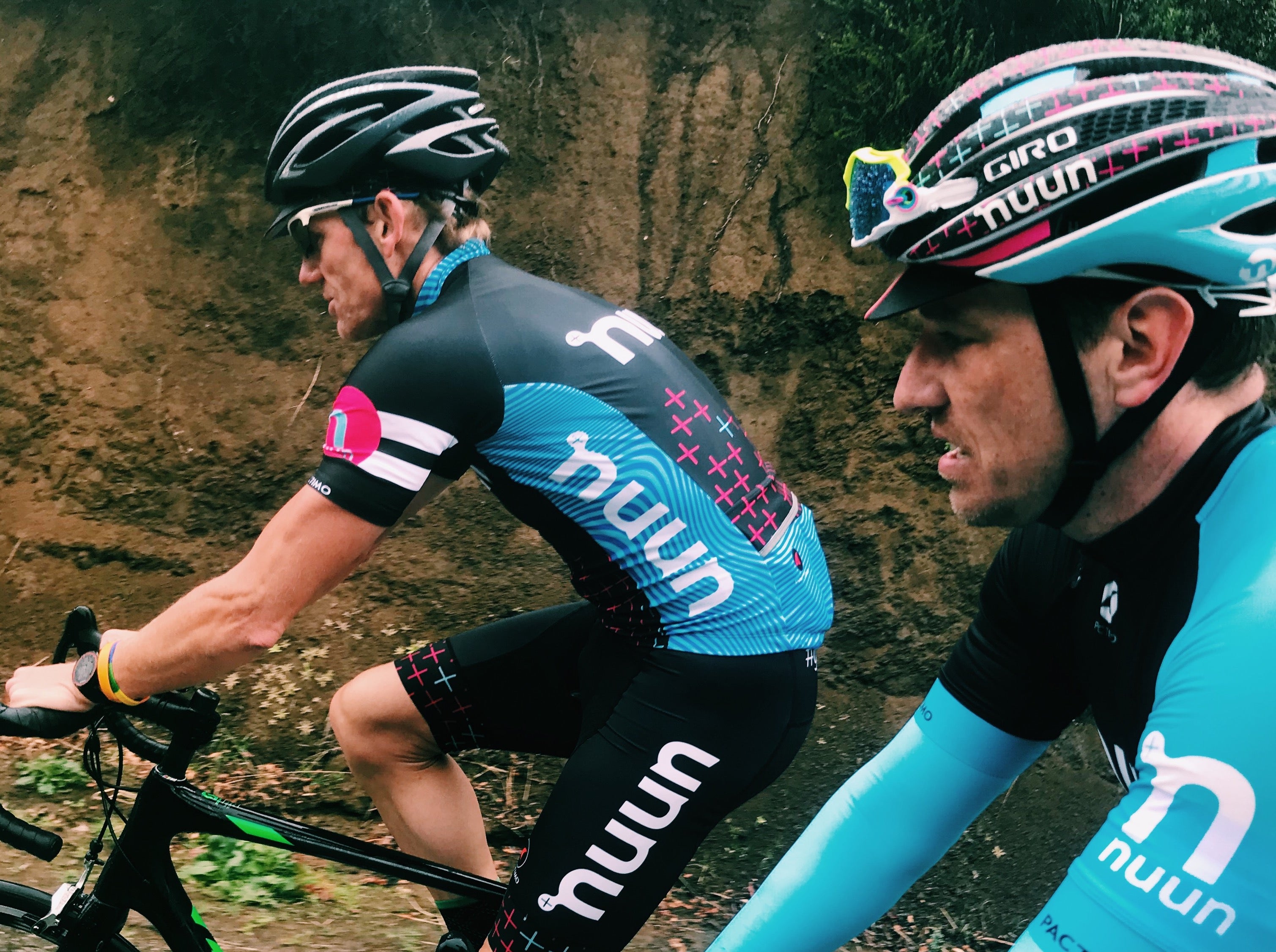 Hi again—Tim and Anne here! We are thrilled to be on this journey together and to be able to share it with you. Since embarking on this journey, the number one question we have received from friends and family has been "what is your training going to be like?" This is an excellent question! With the Leadville 100 trail run and 100 MTB being 5 months away, we expect that training will be evolving greatly as the races approach.
Updates from Anne
I have run over 50 marathons and two ultra marathons by relying on my own experience and knowledge of the sport. For a race this important (and long!) I decided it was time to bring in the experts. I called on Coach Kimberly Springborn to help guide me in this journey. Kim and I were teammates on the Runners Roost Race Team for several years. She is a RRCA certified coach and accomplished ultra marathoner and Ironman triathlete. Her coaching philosophy centers on goal setting, injury prevention, using scientific bases in order to maximize results, and accountability.
Currently we are focused on keeping me healthy and using pace focused speed work and long runs to help me achieve a PR at the 2019 Boston Marathon. While I hired Kim primarily to help me optimize my training for Leadville, her guidance during my training for the marathon has been invaluable. She has helped me to understand that form is crucial, as are rest and recovery for both the body and the mind.
During my work with Kim thus far, she has put great emphasis on the importance of biomechanics and proper form. This focus will not only help me to get faster on the road, but it will also help me to avoid more nagging injuries. While training for shorter races on the road, I have been able to get away with having less than perfect form because the terrain is more uniform. In the mountains you are required to use more lateral/unconventional movements-therefore stability, form and balance are key.
Once the marathon is complete, our focus will shift from pace-based training to heart rate-based training. This will allow me to become more aware of my effort level on terrain that is constantly changing, rather than being concerned about holding a certain pace. The road marathon (and road races in general) are very different from trail races. Not only is the terrain different; the overall mindset shifts from speed, speed, speed on the roads to effort level on the trails. Monitoring your heart rate is the best way to improve your aerobic capacity without over stressing your muscles and your bones.
Speaking of trails, I plan to be spending a TON of time on them in the months leading up to Leadville. Living in Colorado, Tim and I have the luxury of having some pretty easy accessibility to elevation training. We plan to set up camp in the mountains most weekends this summer. I plan to run back to back 20+ mile training runs. On the road, a 20-mile training run would typically take me around 2.5 hours. On the trails at elevation, a 20 mile run could take me five or more hours. Getting up to higher elevations to train will make a significant difference for my fitness level and my ability to conquer the climbs in the 100 run. I expect that during my heaviest training weeks I will be logging up to 80 miles a week. 
Putting in that much mileage means that it will be crucial for me to be listening to my body, addressing any aches and pains, and making sure I get proper rest and recovery. I am a person who always likes to be moving and doing something. You can ask my mom and she will confirm that since I was a small child I always had to have some kind of activity going on. Sitting still was not (and definitely is STILL not) my forte. I have some essential tools that I am currently using to aid in my recovery. In January we invested in a pair of Rapid Reboot compression boots and they have been a lifesaver. I like to sit in them while I am working on my laptop or watching tv. Compression boots help to improve blood circulation and flexibility, and also reduce muscle tissue repair time.
Getting plenty of high quality sleep is also very important for me while I train for the marathon and the 100. Over the past several years, I have found myself having difficulty staying asleep throughout the night. Often times I would find myself wide awake in the middle of the night, my mind on overdrive thinking about all the things I need to do the next day. I have tried numerous tricks to help distract me from the endless stream of thoughts and worries, from reading to watching tv to listening to guided meditations. From time to time these tricks are effective, but if I lie awake for several hours a night, I inevitably feel like I have a disadvantage when it comes time to face the tasks of the day ahead, including my training.      
Lucky for me, the research and development team at Nuun recently released a solution for restless sleepers and athletes like me. Over the past month I have made Nuun Rest part of my evening ritual. I add one tab to four ounces of water (Lemon Chamomile is my favorite flavor.) The magnesium and tart cherry extract help to calm my mind and prepare my body for quality sleep so that my muscles can recover quickly.
Update on Tim
To achieve all my goals this year, I am working with Williams Racing Academy based out of Wimberley, Texas. Christian has been coaching athletes for over 20 years and has worked as the Director for the Garmin/Sharp development team. He and his son Noah put on a weekly podcast called the Second Echelon and I highly encourage you all to listen to it. When asked, "what will my training look like this season?" Christian came back with this….
"Leadville is a big physical demand.  To earn that belt buckle requires endurance, obviously, because it is a 100-mile mountain bike race, but it also requires speed in order to make the cut-off time.   There's real climbing and descending, and there are long sections of road.  It is a race that requires you to be on top of all aspects of the game!

With Tim, we're starting from square one.  We're working to establish not only a base, but a routine of training and working out.  That habit and routine is key when starting new.  Everyone is motivated at first, but an event that is 5-6 months away requires more than the first few weeks of excitement in having a plan.  It requires a regular routine.  Establishing this routine is key, especially since Tim has had several work trips and even a move to another state! 

Tim doesn't have unlimited time to train, so base building is a combination of endurance rides with tempo blocks to bring up the overall workload without enduring too much stress early on.  We also have strength and mobility work to not simply get stronger, but to be more durable.   We have some intensity mixed in to the workouts, but not in the traditional sense of intervals.  We're blending our strength work with applicable on-the-bike work.  If we go to intervals too soon or before a base is well established, we can get fitter in a hurry, but not as fit as we could if we first establish an aerobic base.  Think of intensity as fine tuning the engine, and we're still building a bigger engine.

It's easy for a coach to want to get creative with intervals and such to show what the coach can do, but the point of our relationship is to show what TIM can do.  And the best thing for Tim right now is to be cooking on a low flame."
 Christian's process is a bit different than other coaches I've had and from my typical mindset so it has been a great exercise in trusting in and believing in the process. The training has been consistent and I am feeling strong and hungry for more. This is exactly what Christian wants right now. I have struggled in the past with burning out early and not wanting to race. I am doing less mileage then in previous years, but I know I'm building a strong foundation for the real quality work that will be coming in the next few months.
Besides the day-in-day-out training plans, Christian is huge on nutrition and recovery. Right now, we are working on creating healthy eating habits without worrying about counting calories or macros. As long as I am eating solid amounts of fruits, veggies, high quality carbs and solid proteins, there isn't a huge need to dial deep into the exact numbers. He wants me to create these good habits first, and then dial-in a specific eating plan when it comes to racing. We will experiment with different fuel sources throughout training to ensure the body is fueled properly for training along with recovering. 
With recovery, diet plays a huge part but so does rest. Anne and I use our Rapid Reboot recovery boots after every training session and they are a game changer. After hard days, my legs used to be heavy and sluggish. Now, I'm ready to go the next day without the extra lactate floating around in my muscles. This allows me to get the most out of my training. The other key factor I am really working on is my sleep. We as athletes want to hit every interval in training and make sure we crush every workout. But without the proper amount of sleep, this is very limited in terms of sustainability. I aim to get 7-8 hours of sleep a night. I know, this isn't always possible but the more consistent I am with it the better I personally feel. I have been incorporating Nuun Rest along with CBD oil into my pre-sleep ritual. Since I have been using this ritual, my mind is much more relaxed before bed and I am sleeping through the night. I wake up most mornings feeling ready to tackle the day (with the help of a cup of coffee!).
Along with this training plan, Christian and I have come up with a race schedule that will allow me to build into the distance at race pace along with elevation. My race season is as of now looks like this but may change:
Grand Junction Off Road 40 – May 19th
Crested Butte Fat Tire 40 – June 23rd
Silver Rush 50 – July 7th
Leadville 100 – August 10th
 I am looking forward to training, racing and seeing what my body can do at elevation. Being a Chicago guy who just recently moved to Denver, it will take some time to get acclimated. My body seems to be responding well so far and I only expect it to get better. The weather is beginning to warm up and so is our training. I can't wait to take you all along on this journey.
Our next official Leadville check-in will be in June. In the meantime, follow us on Instagram at @annimalj and @timams1 for updates on our training as well as our upcoming races. Feel free to DM us with any questions!