Sleigh the holiday season with Nuun's Holiday Collection!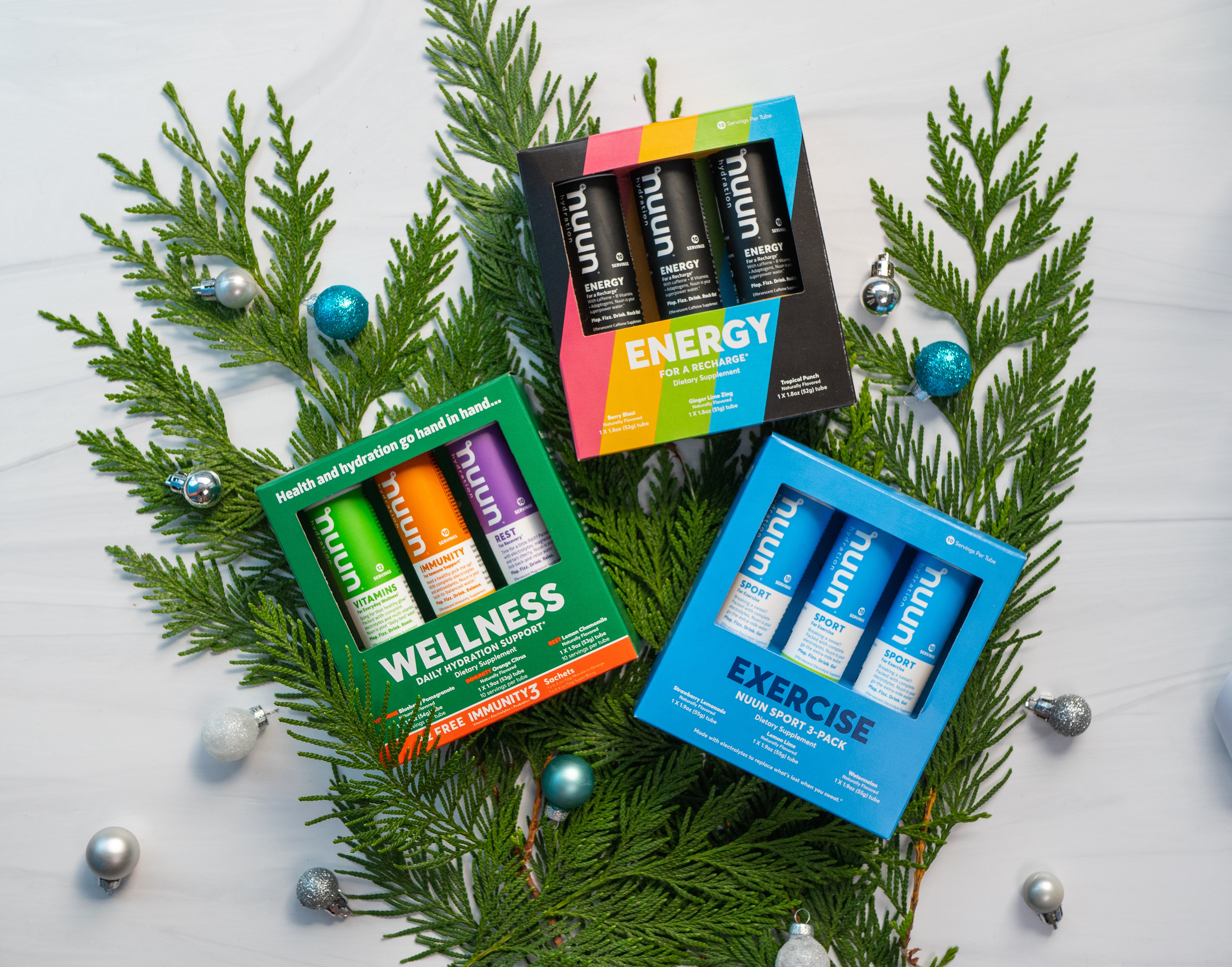 There's nothing quite like this time of year. The cool air on your face, cozy socks, and finally getting to hit the slopes. 
There's also nothing quite like the panic of checking everyone off of your holiday gift list. Not sure what to get your yoga buddy? Wellness enthusiast? Athleisure-wearing walker? Fellow thrill seeker?
For someone who has their essentials covered, Nuun has the goods to take your gift-giving to the next level. We've designed three gift packs, perfect for everyone on your list. 
Perfect for the adventure seeker who pushes ALL the limits.
This holiday collection is for the person in your life balancing workouts, workdays, and everything in between. Each set contains three tubes of Nuun Energy in different delicious, caffeinated flavors: 
Berry Blast, 
Ginger Lime Zing, 
and Tropical Punch.
Nuun Energy is crafted with ginseng, a blend of B12 & B6 vitamins, and 80 mg of caffeine per serving. 
Perfect for the fitness lover who never misses a workout.
If Sporty Spice were to choose a pack out of the holiday collection, we think it'd be this one. The Exercise Holiday pack is designed for the active, muuvment lover in your life.
Contains three tubes of Nuun Sport in three delicious flavors: 
Strawberry Lemonade, 
Lemon Lime, 
and Watermelon.
Nuun Sport is packed with electrolytes to support all their active endeavors.
Perfect for the wellness warrior who collects healthy habits.
For the mindful friend, always fine-tuning and listening to their body's needs. Give the gift of health and hydration! Nuun Vitamins to start the day with hydration and wholesome ingredients, Nuun Immunity to nourish the immune system, and Nuun Rest for extra R&R and a better bedtime. 
Did we mention the flavors?
Blueberry Pomegranate flavor (Nuun Vitamins),
Orange Citrus flavor (Nuun Immunity),
and Lemon Chamomile flavor (Nuun Rest).
PLUS this pack comes with two free samples of NEW Nuun Immunity3.
These bundles of joy are sure to be a hit at your holiday celebration, just pop on a bow and you're ready to go. Check your friends and family off the gift list. Shop Nuun's Holiday Collection!