The Ultimate Hydration Line-Up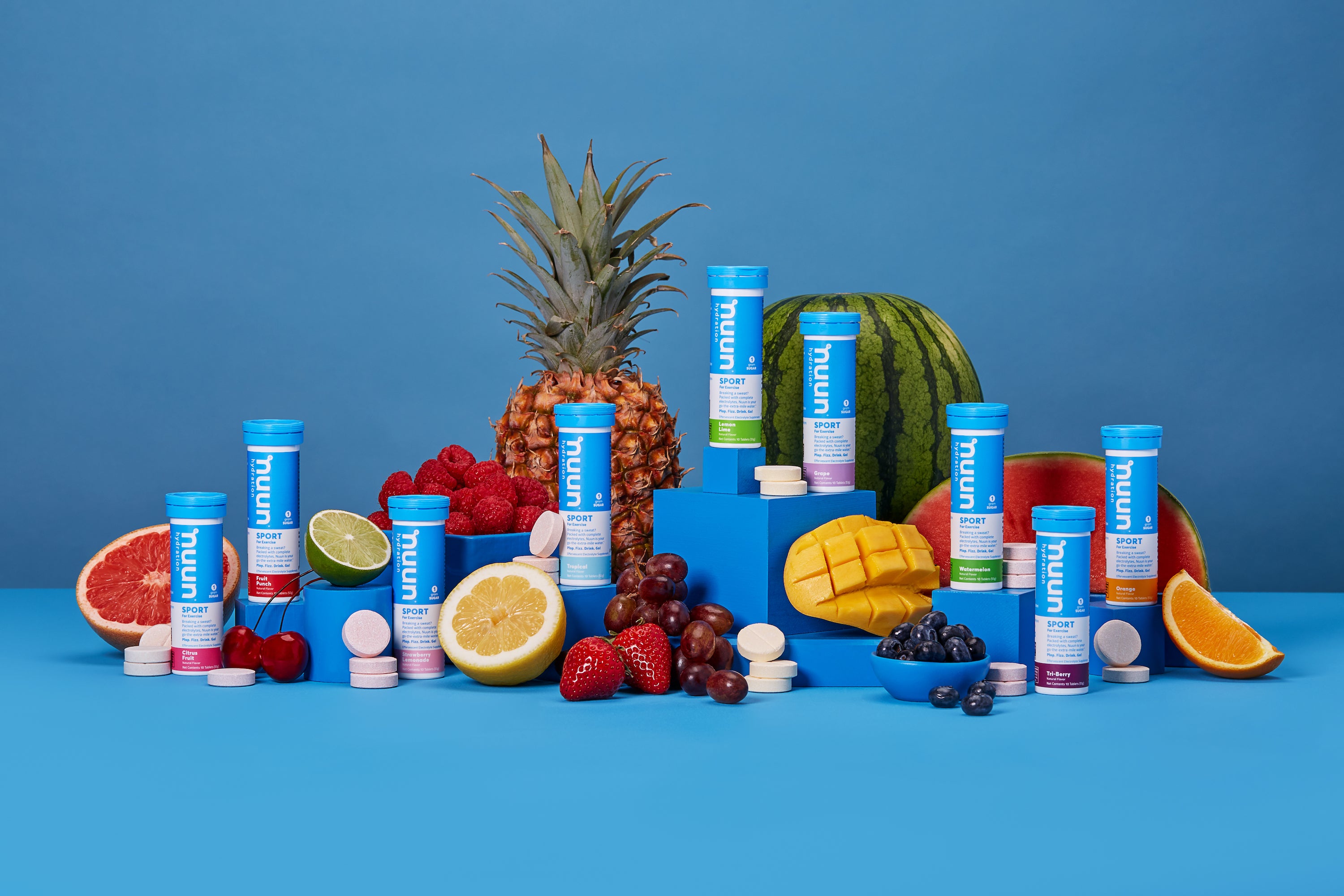 Did you know that proper hydration extends far beyond drinking 8 glasses of water a day? Certain minerals help our bodies to actually absorb the water we consume rather than it flushing straight through our systems. Enter scene: Nuun Hydration!
Nuun has a full line-up of hydration products available to suit whichever hydration scenarios best fit your lifestyle. All of our products are designed around a proprietary electrolyte blend to optimize everyday hydration. Are you a recreational cyclist? Electrolytes and Immunity are a great training & recovery combination! Is yoga more your style? Nuun Vitamins is the yin to your electrolytes yang!
Whatever keeps you busy during the day, we've got the products to keep you moving and thriving throughout it all!
Nuun Sport – hydrate and replenish
For when you work up a sweat.
Nuun's flagship hydration product, Nuun Sport, is packed with complete electrolytes meant to dial in on optimal hydration. When your body needs it the most, Nuun Sport is the best way to re-hydrate or pre-hydrate! (pro-tip: this includes pesky hangovers!)
Nuun Vitamins—hydrate and revitalize
For your daily health.
Vitamins is a fantastic complimentary product to electrolytes. For days where you break less of a sweat, Nuun Vitamins works to provide your body with the minerals it needs for healthy functionality.
Immunity—hydrate and restore
For immune health support.
Immunity helps to support overall immune health whether you're sick, on-the-go, or stressing your body through high intensity workouts. Nuun Immunity's proprietary blend of anti-inflammatories, antioxidants and electrolytes packs a triple punch to fight back against common cold and flu symptoms.
Endurance—hydrate for the long haul
For extended/intense workouts.
Endurance is for long workouts of 90 minutes or more, or super hard shorter workouts. This product has electrolytes + the carbs your body needs for extended or intense effort. Endurance athletes love this product for its ability to both hydrate and provide the body with the carbohydrates it needs during longer workouts!
What's your perfect Nuun line-up?