A Ski Mountaineer's Plan of Reaching the Peak by TJay Gerber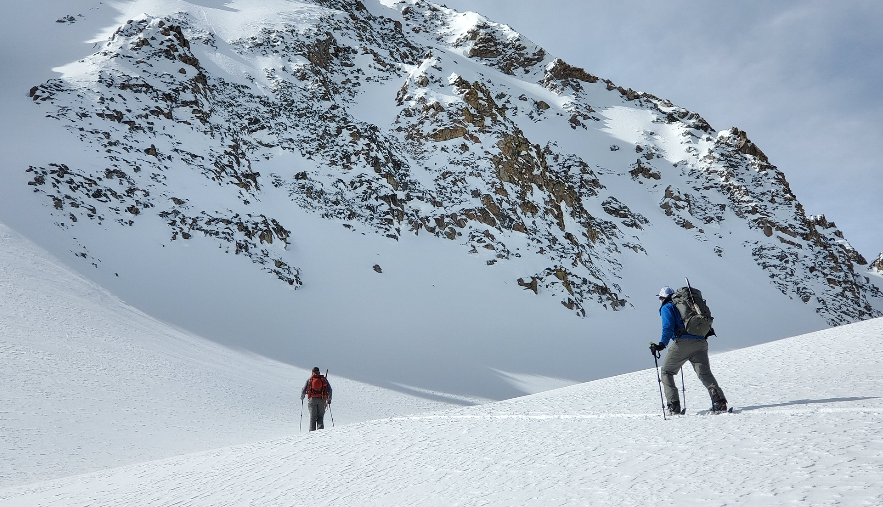 Before you read about the thrill of backcountry skiing and being adequately hydrated, make sure that you get educated on traveling safely in the backcountry. Whether you're skiing, snowshoeing, or making super intense snow angels...get the gear, education, and training before you go out and explore. Know Before You Go will lay it all out for you!
Preparation
Every athlete knows that your activity doesn't just begin when your first drop of sweat hits the ground - it starts hours, weeks, and months beforehand. Fast forwarding through the sweaty part of getting your body in shape, my preparation starts the night before. As a backcountry skier and ski mountaineer, I check the avalanche forecast, weather, and pack my bag with my avalanche beacon, shovel, probe, and the 10 essentials. A healthy meal and consistent hydration throughout the day will also set you up for success the next day - not just for long activities, but for life in general!
Beep beep goes the alarm, munch munch goes the cereal, and yummy in the tummy goes Nuun Prime. On the hour or so drive to the trailhead, I'll drink Prime to prepare my mind and body for the long, strenuous day ahead. By the time my feet get squished into the tight crevices of ski boots and I strap into my skis, I feel awake, alert, and ready to get moving up the mountain!
The Fun Part
This is what we all live for, right!? The thrill of whatever activity we partake in lights a fire in each of us. You need to keep that fire stoked though. Whether it's 12°F with the wind howling and snow pelting my face mid-winter, or barely below freezing with the sun shining in the spring, I always concentrate on hydration. For me, I rely on Endurance to counteract the dehydration effects of huffing and puffing up (and then skiing down) a 14,000 ft mountain. It keeps me fueled with the carbohydrates and electrolytes I need to make multiple laps on a fantastic powder day without having to call it quits.
Relax and Recover
I remember when recovery used to mean popping open a few beers - gotta replenish the carbs, right!? Well, before the beers, I need to make sure my muscles and body are ready for another day on the mountain tomorrow. After all, the snow only lasts so long and I'm hoping to get 100,000 vertical feet of human powered skiing this season! I rely on Nuun Recover to make that dream a reality. It nourishes me with vegan BCAAs, electrolytes, and potassium - I'm not a nutritionist, but I know those three things tend to make me feel a heck of a lot less sore!
No matter where you go along life's journey, always make sure you're adequately hydrated so that you can continue to enjoy your day's events, no matter what or where it is. With Nuun's Podium Series, you'll be able to continue to push yourself just a bit out of your comfort zone and come through the other side feeling accomplished. Make the most of each day!
All photos in this article are taken by TJay. You can follow TJay Gerber on  Instagram or Twitter @teejadventures for more ski season adventures.