BYOC: Ace Your Next Cupless Race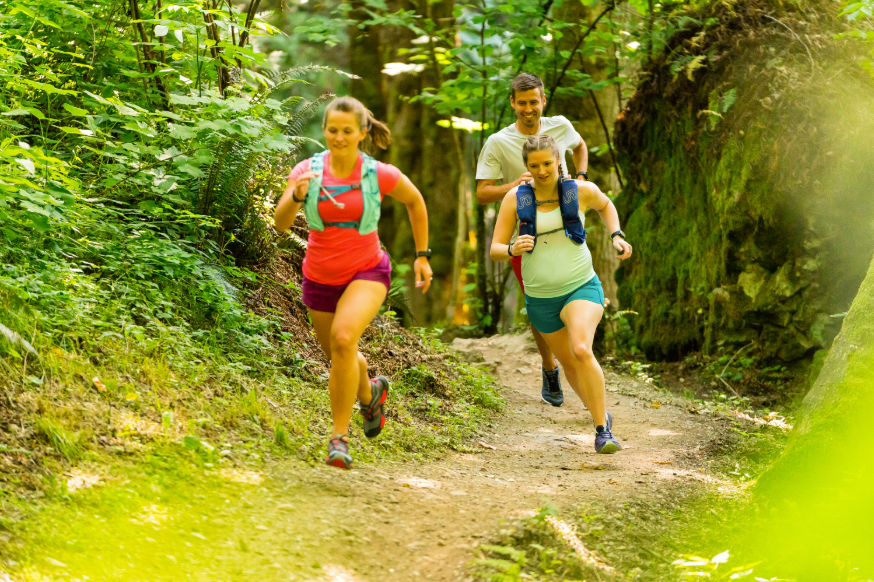 The aid station: It's a necessity in the world of road and trail racing — but trying to gulp down a few sips of water without slipping on the sea of crushed cups under your feet? Easier said than done.
According to HydraPouch, 66% of surveyed runners think that paper cups are a safety hazard, and 74% don't like drinking from paper cups when running.
Avoiding paper cups can also have a tremendous impact on the environment. In an attempt to minimize waste and improve the race experience, more and more races are going cup-free — asking runners to bring their own hydration devices rather than providing single-serve paper cups of water and sports drinks.
Some races are even going a step further and providing runners with reusable cups. The inaugural Bay Bridge Half Marathon, for example, will supply each runner with a reusable cup for on-course hydration and a commemorative glass for a celebratory post-race beer. Through these efforts, the race will save an estimated 20,000 paper cups.
While cupless races have the potential to dramatically minimize waste, they present a new challenge for runners: how to carry water and navigate refill stations without sacrificing a potential PR.   
If you're new to cup-free racing, here's what you need to know to stay hydrated without slowing down.
Choose the Right Hydration Device  
There are plenty of hydration devices on the market for runners, each with pros and cons. Make sure to consider all your options before committing to your strategy. Here are a few of the most popular options and how they perform in a cupless race environment:
Hydration backpacks hold more liquid than most other hydration options — usually a few liters. Depending on the length of your race, a backpack with a high-volume reservoir could keep you hydrated during the entire race, eliminating the need to stop and refill at all. However, that volume comes at a cost; hydration packs can add weight, and some runners experience chafing from the backpack rubbing on their skin. Plus, refilling a backpack at an aid station takes more effort (removing the backpack and opening the reservoir) and longer to refill.

Hand-held or hydration belt bottles don't hold as much liquid as a backpack, but they can hold more than a single-serve cup, so you can go more miles between refills. Plus, they tend to be easier and quicker to refill than a backpack — you can simply unscrew the lid as you approach the aid station and get a quick fill.

Collapsible cups were designed with cupless racing in mind. Inspired by the sustainable race movement, several companies developed flexible silicone cups. The UltrAspire C2 cup, for example, can be stowed in a small space — like your shorts pocket or running belt — but springs open for quick access. The HydraPak SpeedCup is similar, but also includes a finger loop for extra stability. Both are flexible, durable, and hold seven ounces of liquid. Most similar to a traditional aid station cup, these containers deliver a quick shot of hydration without the bulk of a backpack or bottle. And, since there's no lid, they're quick and easy to refill.
Nail the Logistics of a Cup-Free Race
Choosing your hydration device only gets you to the starting line; you also have to consider race-day logistics. At first, a cupless race seems like a logistical nightmare. How, exactly, will you refill your container? Will you have to wait in a line of other runners at each aid station?
The concept of cupless racing is still fairly new, but race organizers are already finding ways to avoid these issues. For example, some races use high-speed dispensers like the UltraSpout. This dispenser is designed for handheld hydration devices of all sorts — from water bottles to cups — and quickly dispenses six ounces of liquid in just one second, so most runners don't have to stop or even slow down. (You can see a video of the dispenser in action here.)
However, some races don't use a special dispenser and opt for traditional coolers or pitchers of water and sports drinks. In that case, as long as there is an appropriate number of coolers and pitchers for the number of participants, lines typically aren't a problem. Just prepare your hydration device of choice as you approach the aid station (i.e., don't wait until you're there to unscrew your water bottle lid), and fill up.
To make sure you know what to expect for your particular race, check out the race website or email the race director prior to the race to verify how refills will be dispensed at each aid station.
Don't Skimp on Hydration
If you seek out any advice about how to hydrate during a race, you'll generally read that you should drink at every aid station. But what if you're carrying your own water or sports drink?
Make sure you don't skimp on hydration to avoid having to refill your container. Drink when you're thirsty, but don't drink so much that you start feeling the liquid slosh around in your stomach.
Also keep in mind that during a long race (lasting more than an hour), you should balance your water intake with a sports drink that contains carbohydrates and electrolytes. Make sure your strategy allows you to take in both. If you decide to use a hydration backpack for example, consider filling the reservoir with water but carrying a collapsible cup to fill with the sports drink provided at the aid station. Or, carry single servings of a sports drink powder, like Nuun Endurance to use when you need it.
Cup-free racing can reduce waste, enhance runner safety, and provide an overall better race experience — as long as you come prepared.