Devann Murphy Sets Personal Record at the Team Nuun Half Marathon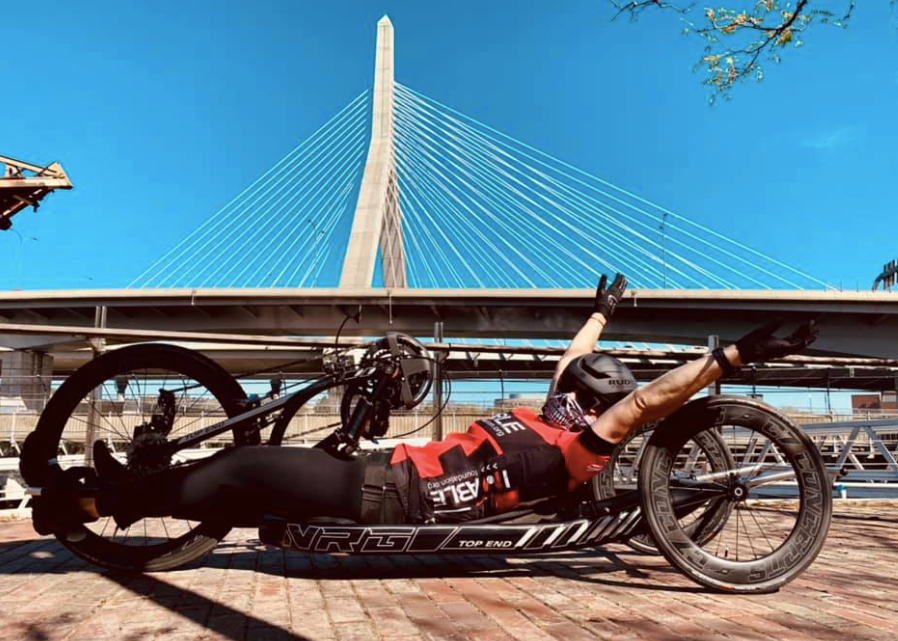 2020, am I right? This was the year we learned everything can change and we must adapt. As an adaptive athlete, I'm used to adapting to whatever situation I'm in, but that definitely doesn't take away the sting of cancelled races.
After a winter of solid training, on point nutrition, and minimal injuries, I was ready to take on the 2020 race season. 2019 was an AMAZING year. Not only did I win the Women's Handcycle category of the Boston Marathon, I went on to win the same category of the TCS NYC Marathon. I started and ended my season with wins, and I was ready to do the same in 2020.
As races were slowly cancelled one by one, I continued training as though we were entering peak season. I'm a firm believer that you don't have to get ready if you stay ready. I spent my summer logging socially distanced miles on the roads and continued to strength train 4-5 days a week in our home gym.
Throughout the year, I registered for virtual events to ensure I was constantly working toward a goal. Apparently, I was so excited for virtual racing, I failed to keep track of just how many events I registered for. The result? Three official marathons and a half marathon over an 8-week period, in addition to a cycling weekend in Boston and Cape Cod, and an unofficial Zwift marathon.
I finished the Virtual Boston Marathon, my first virtual race of the season, on my 40-pound Force 3 handcycle in 1:52:19. I was thrilled! This was roughly 9 minutes faster than my 2019 Boston Marathon finish time. Solid training, good nutrition, and proper hydration worked; yet I knew the best was yet to come.
You know how they say it takes a village? I have an amazing village. Family, friends, and complete strangers helped me upgrade from my 40-pound Force 3 handcycle to a 22-pound aerodynamic Force NRG racing handcycling, which was delivered in September. The changes were immediately noticeable. Using the same course as my Virtual Boston Marathon, I finished the Virtual Marine Corps Marathon in 1:30:38 and the Virtual TCS NYC Marathon in 1:25:13.
When I registered for the Nuun Half, I set an ambitious goal of 40:00 or less. Spolier alert:  I didn't meet that goal. With a finish time of 46:38, I did, however, PR my half marathon time by 14 minutes. Was I disappointed? Of course. But, I was also pumped. FOURTEEN minutes. That's huge!
MY BACKGROUND:
Thirty years ago, as I wandered around left field naming the clouds, I never dreamed I would be an athlete. I experience my first – and last – season of little league softball at the age of eleven. I was mediocre at the sport, but I loved it. I struggled in the outfield but loved running the bases. There was something amazing about the feel of the wind on my face and my ponytail bouncing as I pumped my arms to go faster. I never dreamed the day I jumped up to catch a pop-fly would be the last day I would ever run.
Initially diagnosed with a pulled muscle, I spent the summer stretching, walking, and cycling daily. After months of increasing pain, an x-ray revealed a broken and deteriorating hip. Two months later, I was diagnosed with cancer of the right femur and hip. I was given six weeks to live and sent home with a recommendation for hospice care.
But here's the thing:  I didn't give up. My family sought a second opinion, then a third. We found a surgical team who laid out an intense 18-month chemo protocol paired with an experimental limb salvage surgery. My right hip joint and femur were removed. The femur was replaced with donor tissue and titanium; my pelvis was fused in absence of a hip joint. Some chemo days were great; I have blocked others out. There were good days and bad days. My hair fell out; I broke my nose on an emesis basin; I met Arnold Schwarzenegger; I learned I would spend my life requiring the use of crutches; and I found my strength. More importantly, I lived.
My chemo weeks at Massachusetts General Hospital were spent with my bed pushed up against the window so I could watch the runners train along the Charles River. The first time I heard the words "Boston Marathon," I told my nurse I was going to do the race if I grew up. I never dreamed I would win the Boston Marathon twenty-seven years later, but we'll talk more about that later.
After spending two decades as a couch potato with poor eating habits, I had had enough. I wanted more. I wanted to do more. I wanted to be more. Shortly after my husband and I were married, I decided I wanted to try simple 5k. Less than halfway through the event, I had to quit. In that moment, I was so angry. Angry that cancer had taken my ability to run. Angry that I allowed myself to become overweight and out of shape. But, more than that, I was disappointed that I was allowing the life I fought for to just slip away.
The following day, we joined a gym. Less than two years later, I crutched my way through the 26.2 mile course of the Boston Marathon Jimmy Fund Walk. As I made my way down Copley, thirteen hours after we crossed the start line, I knew I wanted more. I wanted to compete in the real race.
A quick Google search led me to adaptive sports; more specifically, handcycling. I partnered with the IM ABLE Foundation and, two months after receiving my handcycle, I finished my first marathon. I was horrible. At that time, I didn't understand the importance of nutrition, hydration, and training. I made a few adjustments and five months later, I crossed the finish line of the 2015 Marine Corps Marathon, with an even slower finish time.
My frustrations with my performance reached their peak, and I finally reached out for help. I was turned down by three personal trainers before finally discovering my person. Larry proved to be an amazing coach who helped shape me into the competitor I am today. He helped me understand the importance of daily macros, training fuel, and hydration. By the time the 2016 race season rolled around, I was nearly 40 pounds lighter and had developed lean muscle mass. I went into my first marathon prepared and confident and crossed the finish line as the first place female handcyclist.
Everything changed after that day in 2016. Since that time, I've racked up five more wins, including the 2019 Boston Marathon and the 2018 & 2019 TCS NYC Marathons. I've completed four Spartans, qualifying for the Para Spartan Elite Heat twice. I train 5-6 days a week, often twice daily, and developed a love for fitness. Adaptive sports and fitness in general have given back to me what childhood cancer took – activity, confidence, and self-appreciation.