Emma Coburn's World Championship Race Recap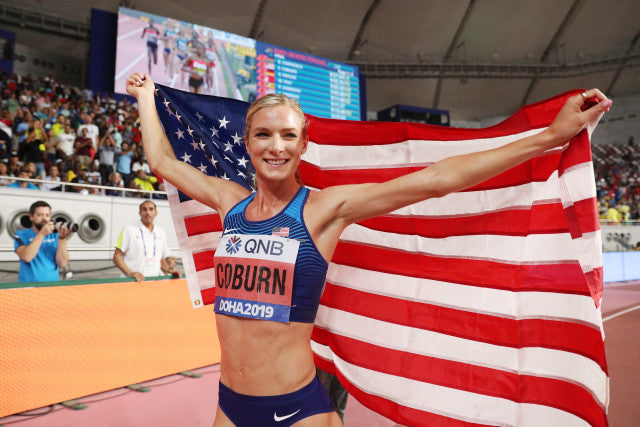 I ended my 2019 season on Monday night in Doha, Qatar with a Silver Medal and a new personal best. It was a great day!  It was a culmination of the year's training and racing, and also the culmination of a year of planning, strategizing, visualizing, and dreaming. I was facing the best women in the world, including the current World Record holder, so knew I had to bring my best fitness and focus into the World Championships. 
The race was filled with the best of the best: the World Record holder and most of the medalists from 2017, 2016 and 2015. Coming into the meet, I was ranked 4th in the world. Earlier this year, I finished 2nd at the Pre Diamond League but at my last race at the Zurich Diamond League, I started the race too fast and faded into 6th at the end. In Zurich I tried to go with the World Record holder, Chepkoech, and started my first 1000m in 2:53. That is 4:36 mile pace, while hurdling and jumping over a water jump. It was too fast for me. At Prefontaine, I started the race in 2:56 and didn't fade. I know 3 seconds doesn't seem like a lot, but in this sport, we are pushing our bodies to razor thin margins and 3 seconds is enough to push you over the edge. Analyzing Zurich and Prefontaine, I knew that 2:55/2:56 would be an ideal start for me, and no faster.
All season Chepkoech, has run hard from the gun. I anticipated that she would do that again. Joe said, "well, we can run for the podium, and maybe reel her in later in the race. Or, we can go with her a risk falling apart." I chose the former. I also learned from the US Championships that I can kick well my last 1000m and thought that even if there is a big gap, maybe I would reel her in. We decided that I would run with the chase pack, and then kick for home with 1000m to go. This is what I visualized. The gun going off, Chepkoech blasting off the line, me hanging back with the pack, staying relaxed, then kicking hard. 
Visualizing the race always helps me focus and relax. It makes me less nervous and gives me control of the moment. When I visualize, I picture every step, every hurdle, what I want to be feeling, what I will be seeing, what the lap counter says, what my body feels like jumping off the water jump. It makes me feel ready.
When we got out onto the track, I felt ready to go. I was nervous, but no more than usual. This is my job, and I love it. I have prepared the best I can, I am as ready as ever, and now is just time to run. The nerves build, but then the gun goes off and immediately, I think, "here we go". Lets go! 
The race played out exactly as I thought. Chepkoech went hard off the line, and I hung back. I stayed with the chase pack and felt relaxed. Often in a race I am looking at the lap counter, seeing 7 laps to go, 6 laps to go, etc. and am wishing I was closer to the end. This race, I felt so relaxed. It felt easy in a way. Just cruising. I didn't want to push until 1000m to go, and once I got off the water jump with 950m to go, I started getting ready for my push. With 800m to go I went to the front and by about 600m to go, had some separation with the pack behind me. Chepkoech was too far ahead at this point. I was gaining on her, but she was too far for me to catch. Maybe, had I pushed from 1200m to go, I could have been closer, but in the moment, didn't want to risk it.
I couldn't see what was happening behind me, but just kept pushing. I kicked for home and crossed the line in 2nd. I saw the clock said 9:02.3 and it was a personal best. My old best was 9:02.5 from the 2017 World Championships. To end my year with a Silver Medal and a new personal best is pretty perfect. I was a happy girl. The best feeling of it all is when we get to throw the flag over our head and do a lap of honor. That is when we get to see our family and friends (my mom and dad were there and seeing them is so special to share these moments together).
The race was a culmination of work, of failures and successes, hard workouts, and months of focus. I am soaking this in now, but am already excited for 2020!