Friday 5: Our Favorite Nuun Cocktails and Mocktails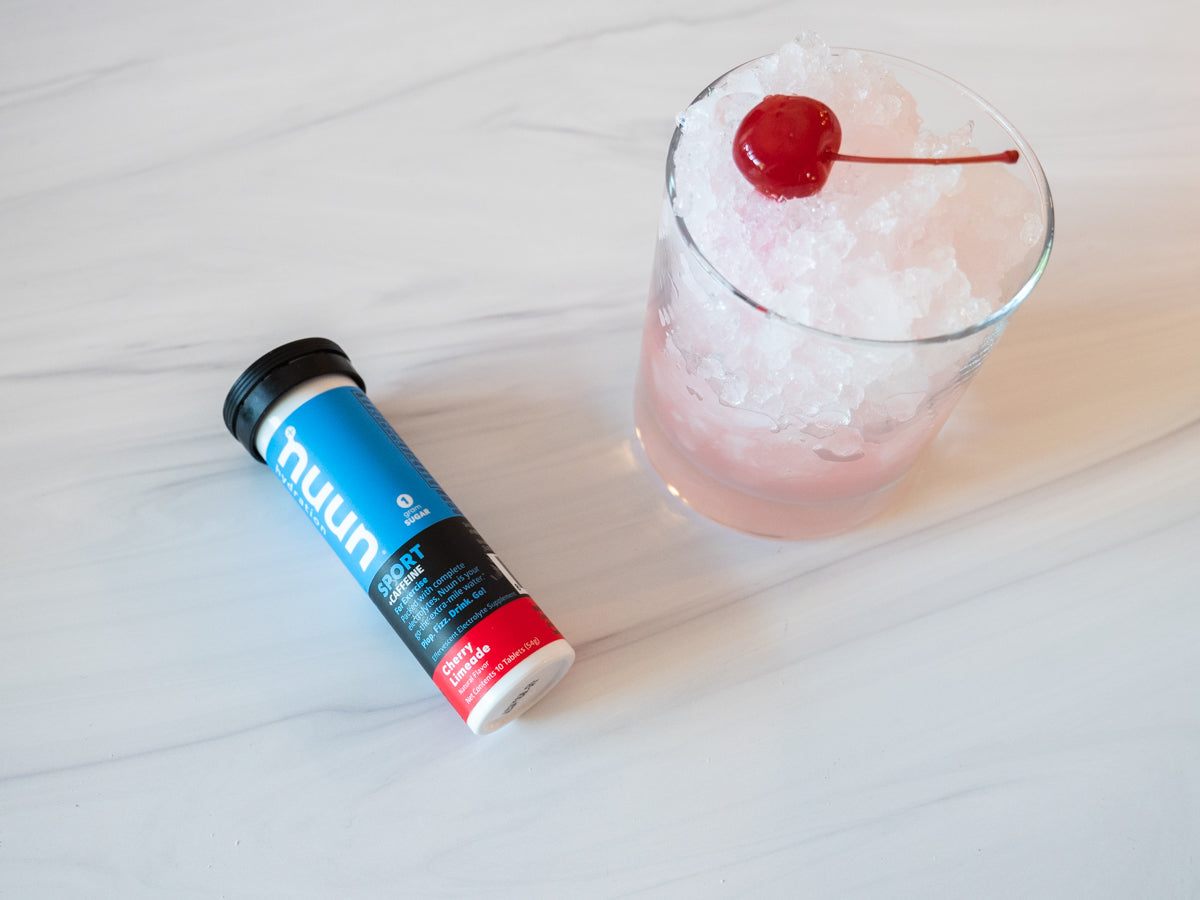 At the Nuun offices, you'll mostly see Nuun tablets dissolved in water as the beverage of choice. But we're nothing if not experimenters, and over the years have tried building all sorts of drinks with Nuun.
For your summer sipping pleasure, here are five Nuun employees' favorite Nuun-based cocktail or mocktail. Let us know what you've come up with in the comments section below!
 1. Nuunmosa
From Arielle Knutson, Marketing Manager
Ingredients:
Champagne
½ Nuun tablet (we recommend Watermelon, Strawberry Lemonade, or Orange)
Pour a splash of champagne in a champagne flute. Add the half Nuun tablet and allow it to dissolve completely to prevent overflow. Fill the remainder with champagne, slowly.
2. The Mellön
From Megan Wheeler, Race Director Program Manager
Ingredients:
1 tablet Watermelon Nuun
5 oz. Water
1.5 oz. Vodka
0.5 oz. Lemon juice
2 mint leaves
Start the Nuun tablet dissolving in water. Combine the other ingredients with ice, and shake. Pour into a tall glass and add the Nuun water. Garnish with the mint leaves.
3. Cherry Limeade Slushy
From Vishal Patel, Nutritionist/Education & Innovations Leader
Ingredients:
3-4 cups crushed ice
1 cherry limeade Nuun tablet
16 oz. Water
1 mint leaf
Dissolve the Nuun tablet in the water. In a blender, combine the ice and the Nuun water. Pour into a tall glass, and garnish with the mint leaf.
4. Nuunarita Snow Cone
From Tyler Smith, National Sales Manager
Ingredients:
8 oz. Cup freshly ground snow cone ice
Tequila
6 lemon lime Nuun tablets
16 oz. Water
Dissolve the six Nuun tablets in the water to make a syrup. Using a tequila-to-syrup ratio of 2-to-1, pour the tequila and syrup over the ice to desired strength and volume.
#5. Rum and (Cherry) Coke
Emma Kesler, Sales Coordinator
Ingredients:
Ice
10-12 oz. Carbonated water
½ Kona Cola Nuun tablet
½ Cherry Limeade Nuun energy tablet
1-2 oz. Rum
In a 16-ounce glass, pour half of the carbonated water over ice. Add the two Nuun half tablets. When they're mostly dissolved, add the rest of carbonated water. (this reduces overflow from effervescence.) Add the rum, and stir.