Introducing Nuun Energy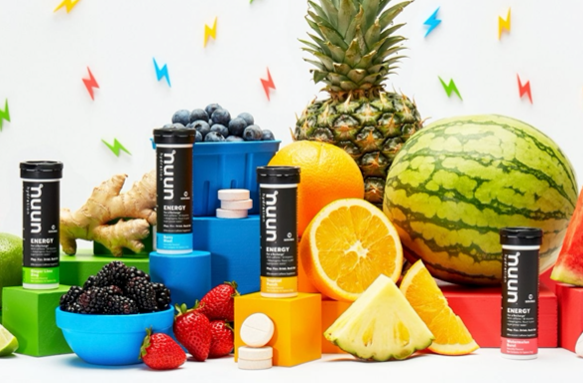 The Future Of Energy Drinks Is Here
Nuun Energy is the newest product to join the Nuun family, and we are thrilled to be able to finally share the details about the development and ingredients of Nuun Energy with you today.
We created Nuun Energy as an alternative to conventional energy drinks, a market we felt was saturated with excess sugar, phony flavors, and weirdly aggressive branding. Nuun Energy has none of that. What it does contain is a balanced, healthy formula of several energy supporting ingredients in amounts designed for a meaningful (but not uncomfortable) boost of energy. And, unlike conventional energy drinks, Nuun Energy comes in tablet form so it can travel anywhere with you—no bulky cans or single use bottles required.  
More Than Just Caffeine
So, what are the key ingredients in Nuun Energy? To start with: caffeine. Caffeine is a naturally occurring stimulant found in coffee beans and tea leaves. The caffeine in Nuun Energy is sourced from organic green tea extract. There are 80mg of caffeine in every serving of Nuun Energy, and this is roughly equivalent to a shot of espresso (no barista required!).
While caffeine alone has mood-lifting and energy boosting effects, we wanted to make a well-rounded formula that would support energy levels from multiple angles. So, in addition to caffeine, Nuun Energy also contains a blend of B vitamins which provide the nutrients needed to convert the food we eat into the fuel our bodies are powered with every day. Deficiencies in B vitamins are somewhat common (especially for people who don't consume animal products) so Nuun Energy contains over 100% of the daily suggested serving for both B12 and B6.
Nuun Energy also contains panax ginseng. This herbal adaptogen has a long history of use in traditional medicine, but modern scientific studies provide concrete evidence that the herb can help improve focus. When thinking about the kind of energetic experience we were looking for in an alternative energy drink, mental clarity was a big factor. Whether you're shredding down a mountain in skis, or cruising through a mountain of emails on a Monday you want to be sharp and alert, not fidgety or filled with jitters.
Like all Nuun products, Nuun Energy is also hydrating! Our formula includes optimized electrolytes for fluid balance, because symptoms of dehydration are a drag.
So, What's Missing?
Well, we're not sure that these things are actually missed, but here's what's not included in Nuun Energy's formula: excess sugar and artificial colors & flavors. Why? Because a sugar-high is not a sustainable energy lift, and artificial flavors & colors have no place in our Clean Product commitment. Nuun Energy contains only 2g of sugar and 15 calories. Our four new flavors are made with real fruit pieces, parts, oils, and extracts. Nuun employees had a chance to sample these flavors earlier this year and the reviews were glowing. But don't just take my word for it…try the new Nuun Energy for yourself!
Whether you're looking for an early morning coffee replacement, an afternoon pick-me-up, or a way to amp up your adventures, Nuun Energy delivers a balanced formula for a great feeling energy lift.