Nicole Valentine: Should You Make Your Next Ironman a Race Vacation?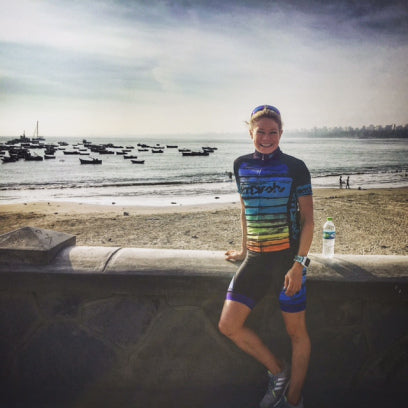 Looking ahead at 2020, and the thought of racing in an exotic, tropical location may cross more than one triathlete's mind. That said, is it really a good idea to make your next Ironman (or your first) a destination race vacation? Here is pro triathlete Nicole Valentine's take on destination racing, based on her travels to Ironman France where she placed third, Brazil and Peru.
 ---
In my own experience, it is a huge gamble to travel overseas given the price tag and difficulties sourcing your nutritional products, acclimating, etc. The gamble can either pay off with huge rewards or lead to disappointment. 
If you decide to go, you need to be prepared for added stress due to travel, time zones, and language barriers, and expect the unexpected when showing up at your hotel. For example, on my second night in France, a Vespa exploded outside my window. Yep! (I'm so sorry for the owner!) I woke in the middle of the night to smoke pouring in and firefighters banging on the door.
As exotic as it seems to travel to a sunny resort destination or go enjoy another country, the reality is that you will likely be more focused on training and resting before the race, and too tired for sightseeing after the race.
I had an extremely rewarding experience in France, however, I met several age group athletes at the hotel who were horribly disappointed when they traveled all the way to Europe and did not finish the course due to the cut off times and challenging nature of the bike leg.
Is a destination race vacation appropriate for your next race? Here are some factors to consider:
How well do you travel? Travel creates a lot of stress and can be a lot to handle on top of pre-race jitters. Are you able to go with the flow and are you OK if you can't get your typical pre-race dinner?
Have you been to the location before? If you have traveled to the same location several times before, you have a better idea of what to expect and how to prepare, and you are less likely to get caught off guard with any big surprises.
Is this your first Ironman, half Ironman, or Olympic distance triathlon? If this is your first Ironman for example, you may want to ensure that you are some place where you are comfortable and can relax with little added stress before and after the race. This will help you handle the effort of race day.
Are you bringing family or friends with you? Will they need to be entertained and will they be comfortable in the location? These are factors to consider.
Do you speak the language? If traveling overseas, being familiar with the local language and culture will go a long way to making your race experience easier and more enjoyable.
I recommend weighing these factors carefully when making the decision to race overseas or in an exotic location. A destination race vacation is bound to be a memorable experience, you just want to ensure it is for the right reasons!
Do you have any travel tips for destination races? Share them in the comments below!