Nuun Sport VS Nuun Vitamins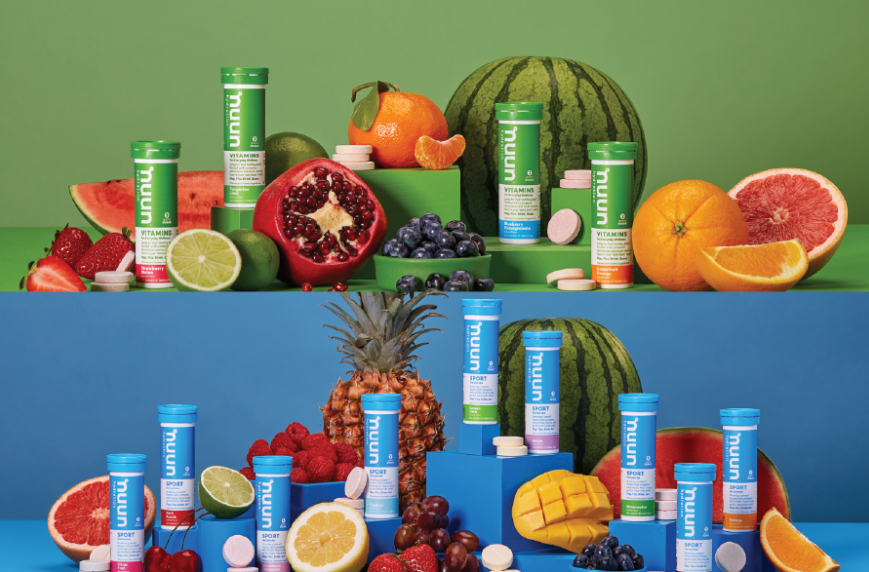 Here at Nuun, we're serious about hydration. The formulas for our products are designed to provide optimized hydration for every occasion. But, with so many formulas to choose from it can get a little confusing. If you've got tubes of both Nuun Sport and Nuun Vitamins in your pantry right now, read on! We're breaking down the key differences between these beloved tablets so you can hydrate with confidence!
Get to know Nuun Sport
Nuun Sport was the original Nuun tablet product. Designed as a healthy sports drink alternative that cut out the excess sugar found in conventional sports drinks, over the years Nuun Sport has had a few different formulas and even a few different names, but its purpose has always been the same. Nuun Sport is formulated to replace what is lost when you sweat.
What's inside Nuun Sport
Nuun Sport is formulated with simple, but robust electrolyte servings.
300mg Sodium
150MG Potassium
40mg Chloride
25mg Magnesium
13mg Calcium
1g Sugar
15 Calories
When should you drink Nuun Sport?
Nuun Sport is made to be consumed before, during, and after a workout or any activity where you're working up a sweat! Nuun Sport is popular with backpackers and long-distance hikers because of its simple ingredient profile and ample electrolyte content. Nuun Sport is also a great hydration option if you're going to be working outside in warm weather.
Get to know Nuun Vitamins
We like to think of Nuun Vitamins as the fun cousin in the Nuun Family Tree. With six tasty flavors, a lighter electrolyte serving, and a bunch of vitamins Nuun Vitamins was designed to be a tasty, hydrating treat for everyday activities. For many, Nuun Vitamins is a healthy substitute for soda or sweetened tea with light refreshing flavors (some with caffeine!) and low sugar. 
What's inside Nuun Vitamins?
Lighter electrolytes and more vitamins make up this formula.
100mg Sodium
150mg Potassium
15mg Magnesium
Vitamins A, C, D, E, B6
Folid Acid
2g Sugar
10 Calories
When should you drink Nuun Vitamins?
The short answer: anytime, anywhere! The longer answer: Nuun Vitamins is great at maintaining hydration when you're doing low-intensity activities that don't involve working up a serious sweat. One example would be a gentle yoga class or an easy walk around the neighborhood. Nuun Vitamins gives you a boost of hydration and vitamins, but it's not designed to provide serious hydration support for training sessions like Nuun Sport.
We hope this article gives you a better understanding of these two fan-favorite products. Stay hydrated out there!