Special Occasion Hydration: Recipes From Nuun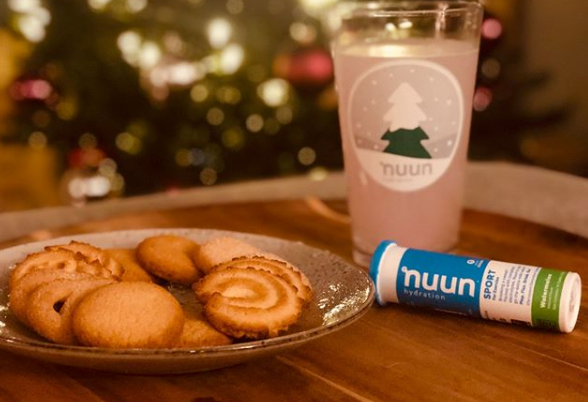 The holiday season is upon us, and while family gatherings might look at little different this year there's no reason not to whip up some festive, hydrating Nuun recipes. We're sharing some of our fan-favorite Nuun drinks in this blog post, but be sure to follow us on Instagram for more great Nuun cocktails, mocktails, and smoothies.
When you're getting cozy at home... 
Whip up a Hot Nuun Toddy! 
Instructions: Heat 8oz of water to almost boiling and add a ginger lemonade Nuun Vitamins tablet. Add 1.5oz of your favorite rum and garnish with a cinnamon stick and lemon slice. Best enjoyed while wearing fuzzy socks!  
 When you're having a virtual party with friends and family... 
Treat yourself to a classic Nuunrita! 
Instructions: Salt the rim of your favorite glass and set aside. Dissolve one lemon lime Nuun Sport tablet in 4-6oz of water. In a cocktail shaker add ice, 2oz of your favorite tequila, .5oz of triple sec, and the dissolved Nuun Sport. Shake vigorously and strain into your salted glass. Garnish with a lime and enjoy the tropical vibes. 
When you're recovering from the frenzy of festivities...
Sip on an anti-inflammatory smoothie! 
Instructions: Dissolve one citrus orange flavor Nuun Immunity tablet in 8oz of water. Add dissolved Nuun, one peeled orange or tangerine, chopped banana (frozen works great!), a handful of raw cashews, one chopped carrot, 1/4tsp minced ginger, and 1/4tsp turmeric to blender and blend till smooth. If smoothie too thick add a little more water. Enjoy while watching your favorite cartoons!