The Juice: Citrus Ginger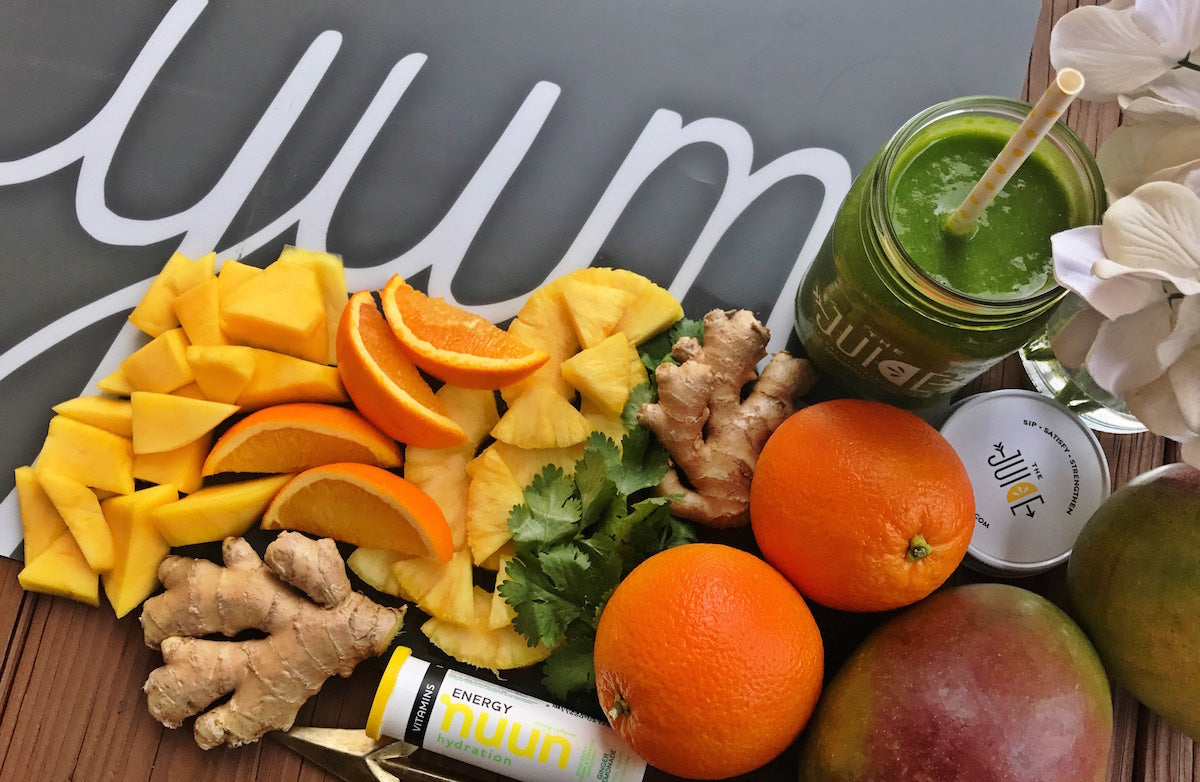 Our friend Katie from The Juice is back with another delicious Nuun smoothie. Winter is cold and flu season, and this smoothie will help keep your immune system up and running.
—
New year, who dis?!
With the hustle and bustle of the holidays behind us, we're settling into those new year vibes, rooted in the lessons learned in 2016 and giddy to see to what 2017 has in store. It's in the quiet calm of January that we're able to find comfort in the old but connect with the new, to start small but dream big, to refuel, refresh + re-energize, ready to make the next year nothing short of epic.
Oh, epic you say? Like it's easy? Well it kinda is .. First, let's put some pen to paper and try to find that thing that screens + snapchat filters annihilated .. Imagination! Dream big kids .. Imagine what you want this year to hold - whether it be a new PR, your first ultra, your first puppy, or even a brand new boyfriend thats going to be all like "Hey, did you lose weight? Let me make you breakfast, you look ravishing today." Whatever it is, write it down; a handwritten vision is like asking the universe for express delivery.
Second (this is where we come in), put spinach and/or kale in as many things as possible and follow it up with a huge glass of Nuun. Because here's the secret: when you feel good, you do good, and when you do good, you feel good. It's best cyclic pattern to be stuck in and I am absolutely positive that the world needs a lot more of both right now.
So, it should come as no surprise then that we did a bit of a Carlton-esque happy dance when we heard about Nuun's brand new line of vitamin-rich tabs, each flavor complimenting our own favorite blends of leafy green fab.
With 11 vitamins and minerals to aid in hydration, the newest Nuun's are designed to help you recover + strengthen, thus increasing the effectiveness of your next workout. With that, we snagged the ginger limeade and combined it with our own nutrient-dense concoction.
Pairing mango and pineapple for immunity and fiber with cilantro, ginger and lime, this bold blend is designed to target the liver, reduce inflammation, carry out toxins and alkalize the body.. All while unclogging dull, lifeless skin. With a hint of sea salt and a slice of avocado to heal the adrenals and boost absorption, this perfectly paired powerhouse will have you going and glowing with naturally nutritious energy.
Ingredients
2 handfuls of spinach
1 ginger limeade tab, dissolved in 8 oz of water
1/4 cup of fresh orange juice
1 tablespoon of lime juice
1/4 cup of cilantro (optional but so good for you!)
1/4 avocado
Dash of sea salt
[for a smooth, rich taste, blend the ingredients listed above first, before adding the rest!]
1 thumb of ginger
1 cup of diced mango
1 cup of chopped pineapple
Blend again + enjoy!
Cheers to a green + clean 2017!
In health + happiness,
Katie