5 Tips for Winter Hiking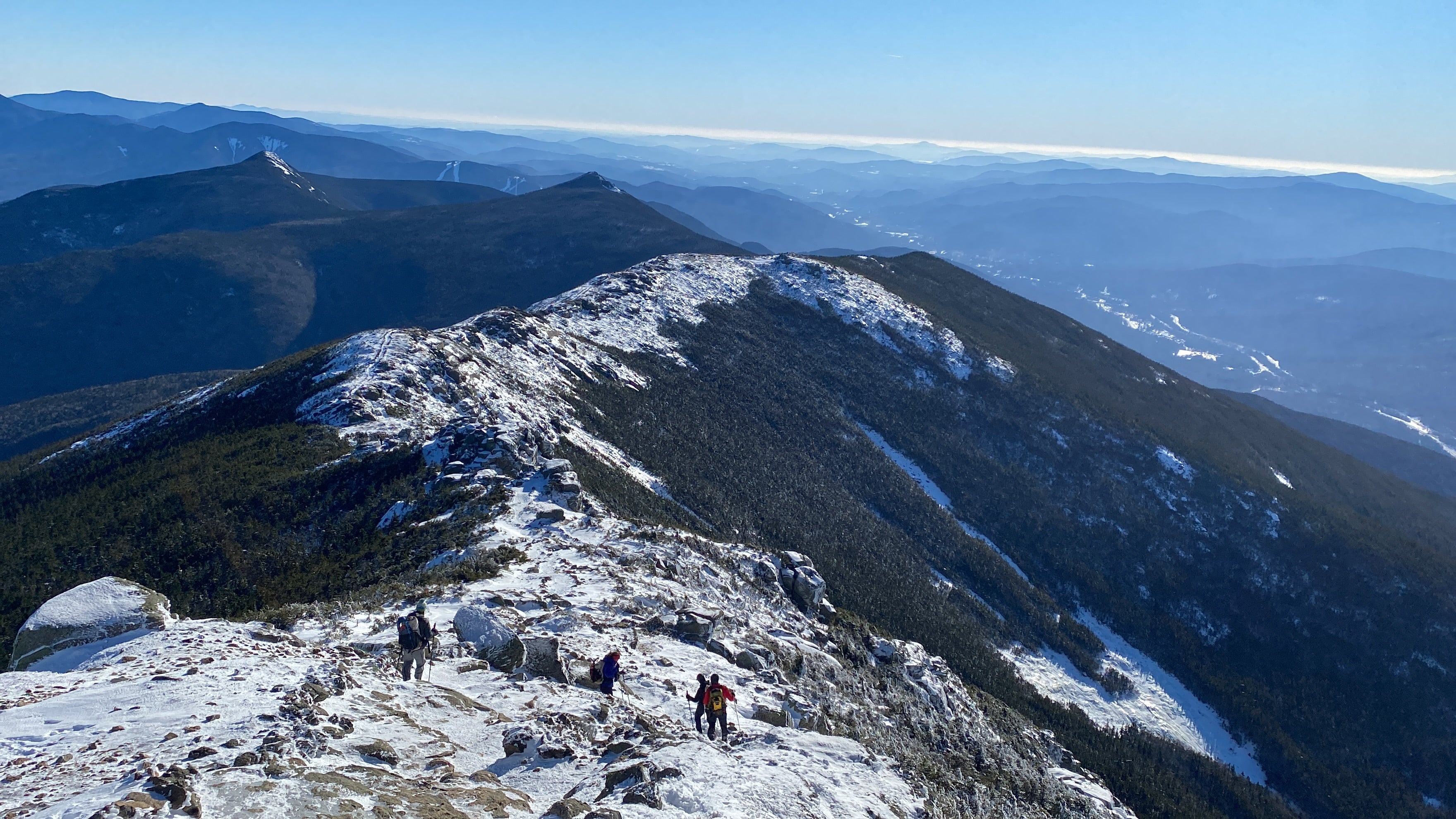 By Alyssa Godesky, triathlete
Last April, I moved up to New Hampshire from Virginia. If you told me a year ago that this winter I'd be doing a 30-mile hike in the White Mountains, I'd have laughed at you! It's crazy how things can change in a year.
The idea to hike the Pemi Loop in winter was hatched by a friend and mentioned to me around the same time as when I did my first cold weather hike in November. The Pemi Loop is a 30-mile trail encircling the western half of the Pemigewasset Wilderness in the White Mountain National Forest. We picked a date in January, and I got to work — I knew I had a lot to learn in two months!
Here are some of the highlights of what I learned, setting me up for success on that Pemi Loop Hike:
Get in gear! As a triathlete, more gear definitely didn't faze me, but I was quite aware of the pile-up of new things in the basement: snowshoes, poles, goggles, gaiters, micro spikes, crampons… the list goes on and on. And while I often advise in triathlon to "just do it" even if you don't have quite the right setup, that's not necessarily my advice for winter hiking. In winter, if you don't have the right gear, it could get unsafe pretty quickly. But, many outdoor gear spots do rentals, so search around. Facebook marketplace is also a gold mine to find these things very affordably. The top two things I think you will get a great return for investment on? Good gloves — like, really, really good gloves — and some gaiters. I wear my gaiters during so many of winter activities and they are a very underrated gear piece in my opinion!
Phone a friend! You know your friend who is the winter expert? Yep, give them a call. For me, one of those friends has been Aubri, whose achievements in the mountains in all seasons are pretty epic. Throughout their adventures, Aubri has been compiling advice for folks and you can learn from them too right here. 
Start small, and practice! Winter conditions are nothing to mess around with, and you don't want to be five miles from your car when you realize that your waterproof boots aren't really waterproof, or the straps on your snowshoes don't fit around the boots you wore. A two-mile hike in winter can also feel like a much longer hike when all is said and done! So embrace the baby steps, and do a little at a time, with each practice hike having a goal of testing out a particular gear setup or layering combo you want to dial in.
Prep your hydration! This is a tricky one in the winter because, well, it's freezing outside and your hydration method that works in the other three seasons will probably freeze solid out there pretty quickly! But did you know that there's evidence to show that water with added nutrients and flavor often has a lower freezing point than pure water? As if you needed more reason to stock up on Nuun, extra concentrated Nuun Sport is my go-to in my thermos on my winter hikes.
Always be flexible! Winter hiking is fun, but winter hiking is really fun when everyone comes back safe and sound. Good communication needs to be maintained so everyone is aware of how the group is feeling, and having a bail out option in the winter is extra important for safety.
As I write this, we have just a few weeks left before winter "officially" ends on March 20th. What are you waiting for? Get out there and give it a try!