Animals and Athletes by Sarah True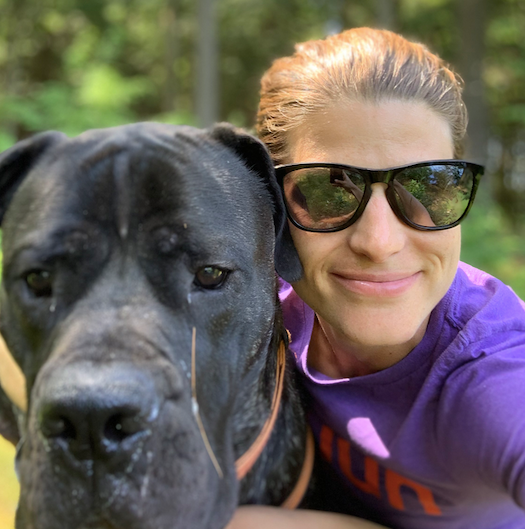 Furry, slobbery, and goofy. There's just something about happy dogs that fills my heart with joy. And while the species has managed to successfully insert themselves into many of our homes for many reasons, I can't help but think they have a special hold on the hearts of active people.
On National Pet Day, Nuun posted a series of photos of their employees with their dogs on Instagram. When I saw some of the folks behind the company with their canine companions, it filled me with an indescribable glee. After partnering with the company for a while, many of the names of the Nuun team are familiar to me. Seeing these terrific people frolicking with their dogs filled me with an immediate sense of connection. It was as if I was able to gain a really personal and intimate insight into people with whom I've only engaged professionally.
Filled with lots of warm and fuzzies, I felt inspired to turn to my triathlon community and keep my giddy animal-induced buzz alive. I asked people to share their pet photos with me and I promised to share a few with my followers at large, hoping that others were as grateful for an animal picture or two as I was. Not surprisingly, I shortly received a flood of grinning dogs of all sizes, fluffy cats, a few rodents and a couple of parrots. I have never had so much fun on social media as I did that day. While I might have alienated some with my animal enthusiasm, it overjoyed me to connect with other likeminded athletes.
As much as I loved to see the animals themselves, what made this little experiment so meaningful to me was the sense of connection that I felt with each person who sent me a proud photo. I engage with an incredibly active community and we normally bond through sport. The visible love and kinship with which people interact with their pets allowed me to feel another level of empathy. It was as though I was able to gain insight into their most personal selves.
Pets have a special place in our lives, having domesticated over time into helpful companions for humans. They work for us, clean up after us, keep us company, and are members of our families. For athletes, they're sometimes our training partners and our inspiration to get out the door. But I believe that there's also another layer of connection.
Active people feel a bond with animals because they remind us of our own physical needs. When we see our pets at play, it reflects our own need for play. Few things warm the heart of a senior pet owner more than when their animal wants to fetch a ball or romp. Even though the speed and frequency decreases over time, it's touching to see that the need for play is innate and life-long. Likewise, when we see our animals sleep soundly after a day frolicking outside, it fills us with a sense of kinship. There is a sense of fulfillment and gratification that we all feel after a particularly active and physically challenging day. When we see how well our exhausted animals sleep, it resonates with us and mirrors how great we can feel after a long bike ride or an exhilarating workout.
Sometime we can lose sight of the fact that we are just animals. We get so caught up in our daily routines that's easy to forget that we have a deep seated need for movement and for play. Seeing our dogs run across a field, tongue lolling and grinning happily, it triggers something deep within us. We recognize a bond and a kinship; that we are our most complete selves when we embrace and attend to our physical needs. Do you need to be a pet lover to be an athlete? Of course not! But having an in-home reminder of our shared animality can be surprisingly inspiring. And since these critters manage to gain shelter and food from us, moments of joy and inspiration seem like a fair exchange.