Checking in with Team Novo Nordisk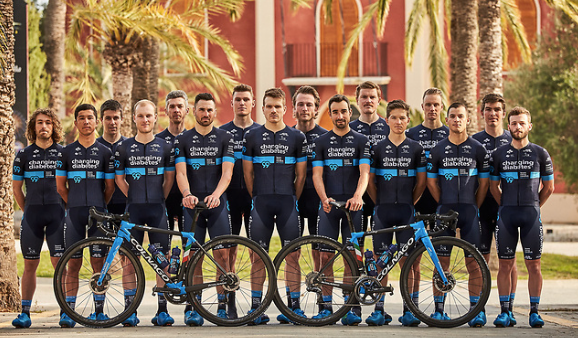 All images are ©TeamNovoNordisk
Team Novo Nordisk, a global all-diabetes sports team of cyclists, shares how COVID-19 has impacted their training and travel plans and three of their athletes give us an in-depth look at their new daily routines.

 
On Making the Call to Stop Racing  
Back at the end of February/beginning of March, it became clear to us that travel would be severely restricted on a global scale due to COVID-19. Much of our staff lives in Northern Italy, one of the hardest and first places hit by the virus, so we had it on our radar fairly early.
Our March calendar included races in Rwanda, Italy, Greece, Chile and Thailand. While the team was wrapping up the Tour du Rwanda and the Rhodes Tour (Greece), we knew that we had to make a decision based on the health of our athletes.
On March 5th and with the full support of our title sponsor, Novo Nordisk, we made the decision to suspend travel.
Since then, we've continuously monitored the situation and had on-going conversations with all our athletes, staff and sponsors.
At Team Novo Nordisk, our mission is to inspire, educate and empower everyone affected by diabetes. While racing and results are important, sharing the team's message and providing hope has always been our primary goal. So while we haven't been able to take the start line at a race, we remain committed to our roles as ambassadors.
Over the past five weeks, we've focused on providing interesting digital content that engages our community. We recognize this can feel like an isolating time and want to do our part to strengthen the sense of community and connectivity.
Follow us across all digital channels for fresh and engaging content.
Day in the Life of Pro Rider Hamish Beadle (NZL)
Hamish lives in New Zealand and can still go out riding within reason but is in full lockdown otherwise.
Morning/Breakfast:
I'm up usually around 7-8am on a training day, and rest days, I sleep in a bit more. 
Breakfast for me is a bowl of porridge with dates mixed in, and some brown sugar and milk on top, or some toast with marmite. This sets me up for a good day, whatever I have in store. 
I typically am riding by 9-10am and do 2-4 hours. Currently, most of it is on the erg, doing Sufferfest or Zwift (or good old fashioned staring at the wall).
This means a lot more electrolytes are needed as you sweat a lot more on the erg. I'm putting two tabs of Nuun in each of my bottles so I'm not depleting my stores. It's also a lot easier to drink water when it tastes good!
Lunch: 
Pretty casual with lunch, basically whatever is in the fridge from last night's dinner or some toast with Nutella. Fruit salad is a regular with orange, apple, blueberries, strawberries, nectarines, pineapple etc. 
Afternoon: 
Afternoons are pretty chill for me, time to read my book, watch a bit of tv, wash my bike etc. Maybe a circuit session if it's on the program. 
Dinner: 
I'm pretty lucky at the moment to be living back home in New Zealand. My mum and dad have dinner sorted! We love Thai, Vietnamese, Indian, Japanese, etc. So we always have something interesting on the table. 
Heading to bed: 
I have a couple of Netflix series on the go at the moment, so I watch something before heading to bed. I also try to get in some foam rolling and stretching because it is so big for recovery.
Sleeping habits are a bit out of whack currently, but I'm managing to stay somewhat normal.... Give or take a couple hours... 
Day in the Life of Devo Rider Jan Dunnewind (NED)
So far, the lockdown isn't driving me crazy yet. I am still allowed to
ride outside.
What Morning Looks Like? Breakfast?
Most of the time, I wake up around 8 o'clock. I don't set an alarm. Now with my collarbone [ Jan broke his collarbone at Umag Trophy (Slovenia) at the beginning of March]. I'm not sleeping very well so sometimes I'm awake up earlier than normal.
Now my bike is typically on the trainer. I like to go for a 30-minute spin before breakfast. I always check my blood glucose first and will skip the ride and have breakfast if it is on the lower end.
For breakfast, I have almost daily oatmeal with a variety of ingredients like peanut butter, apple, or blueberries. 
After breakfast, I do my exercises to loosen up my shoulder because of the broken collarbone and then I go back on the bike for a 1-1.5 hour ride. I like to do this one with more intense, like a group ride/race on Zwift. Afterwards, I have a protein shake and a shower.
Lunch?
For lunch, it varies a lot but always includes bread. Most of the time, it has cheese and boiled eggs.
Afternoon?
After lunch, I don't do too much. Watching some Netflix, occasionally reading a book, playing with the dogs, calling a friend and some more exercises for my shoulder. The exercises only take like two minutes and I try to do them every hour.
Around 4 o'clock, I jump on the bike again for a second 1-1.5 hour easy spin on the trainer. Now that I've been given the clearance to ride outside, I'm doing easy spins on my mountain bike because it allows me to sit upright a bit more.
Dinner?
What I eat for dinner is different every day. It is basically just what my mom makes. After dinner, I just hang on the couch. Around 8 pm, I eat some yoghurt with muesli.
Heading to bed
I head to bed around 10 pm. Before I go to sleep, I do my exercises one last time.
A Day in the Life of Ambassador (Endurance Runner): Stephen England (GBR but lives in NYC, USA)
Normalcy. In such uncertain times and living in the epicenter of COVID-19 in the US, people are worried about my family and me. We appreciate the concern, but normalcy, whatever that did mean to you is now key---structure, safety, and sanity. 
I wake up at 7am and if I don't, my dog Miles sure will sound the alarm. He likes the outside just as much as me. I check my blood glucose, the weather, throw on some sweats and pour a glass of Immunity Nuun. Then out the door for a walk with the dog where we search for coffee shops that haven't closed yet. 
Returning home, it's breakfast time. I'm a cereal guy so granola with oak milk is always a winner. Then I dive into my work on my makeshift office setup; the sofa and small table. If my wife, Tiffany, needs the room for a Zoom call, I'm off to the windowsill in the bedroom or up on the rooftop of our building if the weather is great. 
My lunch is light. The toaster is my friend. Sometimes I add a bowl of soup with my toast, otherwise a thick spread of Marmite. You either love it or hate it! A piece of fruit to finish up and then back to the laptop. 
I finish up my day around 5:30pm. If I haven't already gone out for a super-early run, this is usually my window to do so. I'm avoiding Central Park right now as it's overpopulated, especially on nice days. So I run the streets. Solo with my mask, of course. I run with my hydration pack to carry my bottles of Nuun Endurance and Sport and a bunch of gels. I'm constantly finding new routes starting and ending at home. Running used to be my great escape from daily life, but now it's more a sobering reminder that New York City is under siege from coronavirus. Empty streets, sirens, and me panting in my mask. It's eerie. 
Dinnertime means cooking time. Tiffany and I are plant-based athletes and are big fans of Purple Carrot (after chatting with Kevin Rutherford, CEO of Nuun years ago). It's a weekly box delivery of three meals. We love eating super clean and feeling great.
We like to wind down the day with Zoom Happy Hour with friends and family and some Netflix (yes, including Tiger King). We call it a night later than we probably should. We are working on getting that to a more reasonable time to maximize 8 hours of sleep per night. At least Nuun Rest helps us doze off once we hit the pillow. And then we do it over again. Staying home, being safe. Hoping and praying for the healthcare teams and everyone who is not as lucky as we are. 
Team Camp – Getting Back to Racing
We hope we'll get through the COVID-19 crisis soon! Obviously, the entire schedule is out of our hands while we wait for travel restrictions to be lifted and a new calendar to be established by the UCI.
We plan for all our riders to have time to train outside before we return to racing. We are exploring the idea to have a training camp somewhere in Europe before we return to racing. We want to bring everyone back together not only to prepare for the season but also to lift spirits and morale. At Team Novo Nordisk, we see each other as family, and we've missed these months together.
Mission + Nuun
Team Novo Nordisk is a global all-diabetes sports team of cyclists spearheaded by the world's first all-diabetes professional cycling team. In 2012, Phil Southerland, co-founder and CEO of the team, and global healthcare company Novo Nordisk, came together to create Team Novo Nordisk, based on a shared vision to inspire, educate and empower people around the world affected by diabetes. For more information, go to www.teamnovonordisk.com.
Nuun is the premier sports hydration drink of choice for Team Novo Nordisk's endurance athletes. Nuun revolutionized the sports drink market by offering simple and self-dissolving electrolyte enhanced drink tabs without sugar.
Team Novo Nordisk's athletes always need to properly manage their diabetes while training and racing and nuun is a perfection hydration tool because it's sugar free, so it doesn't impact insulin levels or lead to hyperglycaemia, and features electrolytes.

Team Novo Nordisk uses Nuun's full line of products including Sport, Immunity, Rest and Endurance.