Feel the Feelings by Samantha Welter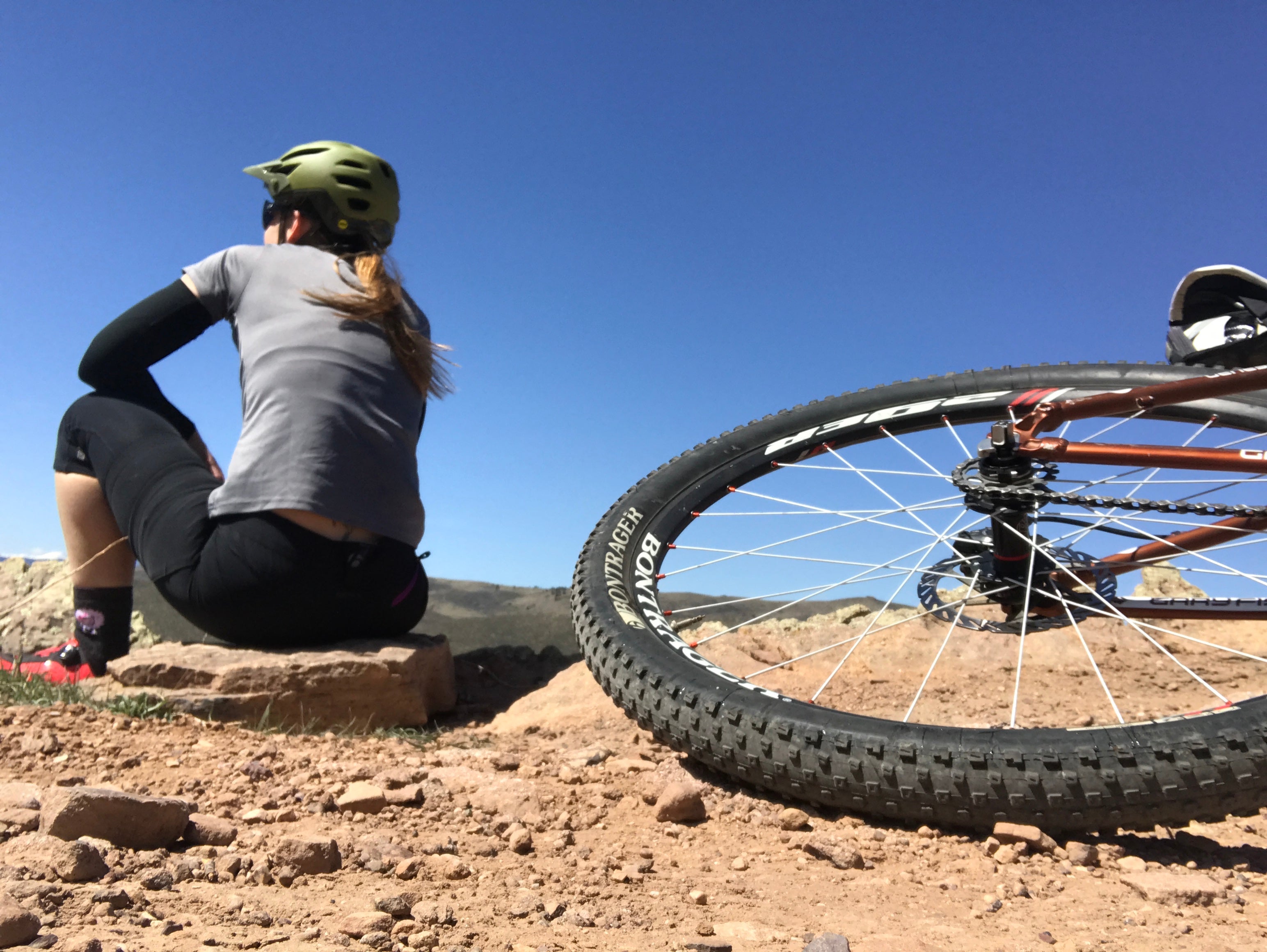 Feel the Feelings, but Remember Your Passion Isn't Cancelled
I was braiding my hair, preparing to venture out on the mountain bike, when the tears began to fall.   Standing there in my sports bra and chamois, I leaned both hands into the vanity top, and stared into my bleary eyes.  I just stopped what I was doing.  I couldn't move past that moment.  I couldn't find the energy to pedal to those rocky tracks that usually free and empower me.  So I just stared.  Stared through myself and into the uncertainty. 
It had been 10 days since I rode my bike.  Our first week at home was a bit like a school vacation—big training rides daily, chicken on the grill, beers on the patio, margaritas to-go.  I was thankful for a salaried job; though my co-workers and I wondered how long this would last.  Hourly the medical advice and business shutdowns were changing.  Our county issued Stay-at-Home orders and defined cannabis stores as essential businesses.  The Boston Marathon was cancelled.  Our nation slowly went from holiday to shock.
When my first few races were cancelled, I shrugged it off with disappointment.  When the ominous emails landed with the cancellation news of my "B" races, I was angry.  When USA Cycling suspended any new event permits, and re-wrote qualification standards for national championships, that took me down to my knees.  That weekend I learned what the word "furloughed" meant, as I was stripped of all paid working hours in my healthcare job. 
Athletes everywhere are feeling loss—high schoolers have lost their spring season, Olympic hopefuls are navigating a year-long postponement, swimmers have no pools in which to swim—all of our training, discipline, and sacrifice now put on pause.  The racing season is a complete unknown.  We are anxious, sad, upset, uninspired.  And guilty.
"We are unable to do the things that light us up and make us feel alive, that's been robbed from us," explains Kirsten Goffena, LPC, of Pathfinders Counseling, "the up and down emotionality and guilt, who am I to feel sad, are normal emotions." 
With the world experiencing so much sickness, death, unemployment, hunger, and economic collapse, it feels bad to feel bad about a cancelled bike race.  But Kirsten says, "Every loss and grieving experience is absolutely valid; your loss is the worst loss."  If you are hurting, internalizing guilt over your own emotions will only exacerbate those feelings.  "Everyone is going through a different flavor of this coronavirus, and we can't rank loss." 
We are grieving collectively as athletes, suffering multiple losses in all aspects of our lives, and experiencing grief for each and every one.  The stages of grief are not linear.  They come and go and send us crashing down all over again.  To this Kristen says, "Be gentle with yourself.  We must allow ourselves to feel what we are feeling—lean into the sadness, the loss, the depression—to move through them.  Wallow a bit, but don't get stuck there."
It was relieving speaking with Kirsten, some of the pain and anxiety melting away with her soothing demeanor, and allowing myself to be okay with my emotional responses over the past few weeks.  Knowing that all loss, all pain, and all grief is absolutely warranted, has made it a bit easier to process.  Here are some strategies I learned from Kirsten about how to cope with your own grief.
Reach out to your community, your running buddy, or your teammates to share your experiences. Surround yourself with people who "get it" and be mindful of the audience to whom you share.  Confide in each other to find healing.
Train as if your racing season is set and certain. Making a plan, aiming for short term goals, helps give us control over a situation filled with ambiguity.  Getting out of the house for a run or ride is great for mental and physical health, plus it just feels damn good. 
Have self-compassion. Notice how you are feeling and give space to those emotions.  When the negativity arises talk to yourself as if you were talking to your best friend.  We are much harsher on ourselves than when we speak to those we love.
Ask yourself, what can I do right now to make myself feel better? Do I want a Cadbury Crème Egg?  A glass of wine?  Would I rather run instead of bike today?  Find the thing that you need and honor it. 
As those bleary eyes in the mirror came back into focus, with fire flashing back at me, I wiped the tears from my face, geared up, grabbed my Nuun, jammed my cleats into the pedals, and went for a freakin' ride.