Introducing: Nuun Sport!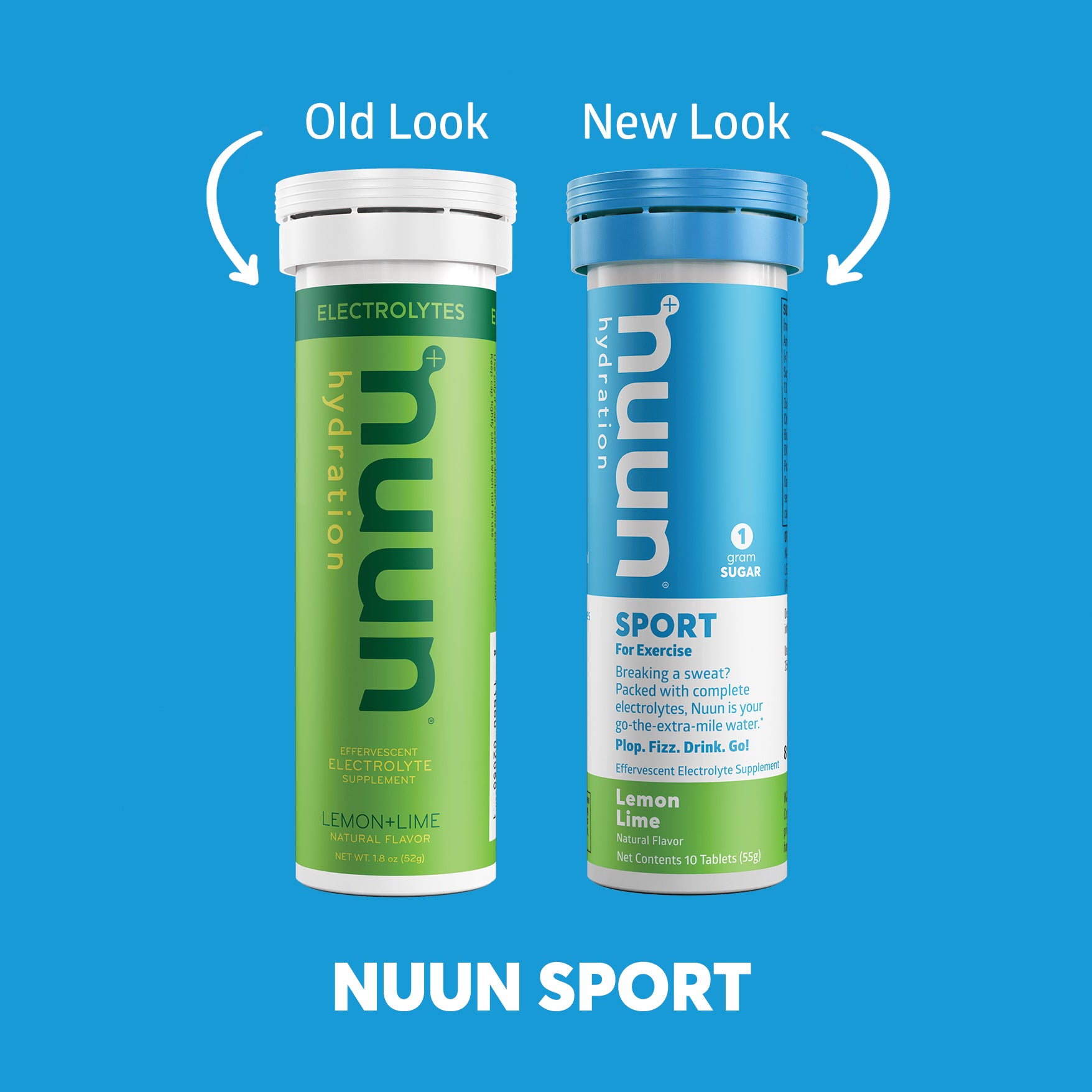 We are so excited to share Nuun's most recent "PR" with the Nuuniverse! Introducing: Nuun Sport, the new and improved Nuun Electrolytes formula meant for before/during/after exercise. Product enhancements include: Faster tablet dissolve time, even better flavor and all ingredients are now Non-GMO project verified! In the coming weeks/months, you'll notice Nuun Sport replacing Nuun Electrolytes on your local retailer shelves, but if you can't wait until then, Nuun Sport is available purchase on the Nuun web store now!

So, why the upgrade? Let's dig in...

Upgraded Ingredients
There are many perks to the newly sourced ingredients for Nuun Sport. The most important of them all is that your favorite sports drink is now Non-GMO project verified! A great deal of research for ideal ingredient sourcing has enabled us to offer an even cleaner hydration beverage than ever before. Other ingredient updates include: Nuun Sport's sweetener profile has been reduced down from stevia & monk fruit (sweeteners used in Nuun Electrolytes), to simply stevia in Nuun Sport. You'll also notice the addition of rice extract to the ingredients list. This was added to help decrease dissolve time (hooray!) With Nuun Sport, you'll notice a much speedier dissolve rate, meaning you can get out the door and onto sweating faster than ever before. Lastly, with the most recent upgrades in ingredients and handling processes, our flagship product is now Kosher certified.
15 calories & 2g carbohydrates
Nuun Hydration is committed to sourcing the most responsible ingredients possible for our products. Nuun Sport is a non-GMO project verified product, and as such, we have upgraded to higher quality ingredients that have amounted to a few more calories per tablet (5 to be exact). Also, the addition of rice extract for faster dissolve time has contributed to the slight calorie increase. Along the same lines, higher quality sources of citric acid and dextrose means that less sugar is needed for the same crisp and refreshing taste that we love about Nuun. Total carbohydrates for Nuun Sport are down to 2g (vs. 4g in Nuun Electrolytes).
Re-optimized Electrolyte profile
One of the most exciting updates about Nuun Sport is the re-optimized electrolyte profile. The most recent sports hydration studies have influenced the decision to adjust electrolyte ratios in order to further optimize absorption rate in the body. You'll notice a small reduction in the amount of sodium, and a small increase in the amount of potassium. These two minerals work side by side, and our updated 2:1 ratio increases overall absorption rate, meaning that the minerals will hit you bloodstream faster! We've also added Chloride to the electrolyte line-up. Chloride plays a key role in overall fluid transfer and electrolyte balance in our bodies. The re-optimized, complete electrolyte profile rounds out a quality sports drink that provides everything your body craves during exercise. 
New packaging
Can you say #transformationtubesday?! The most immediate and obvious update for Nuun Sport is our snazzy makeover. Nuun's transition over to new packaging begins with Nuun Sport and you can expect to see updates made to both Nuun Vitamins and Nuun Immunity in the coming months! Keep an eye out for the shift to new tubes at your local retailers!
Finish your workout strong, hydrated and replenished with Nuun Sport. Just plop, fizz, drink and get muuving!