Looking for Adventure? There's a Sport for That.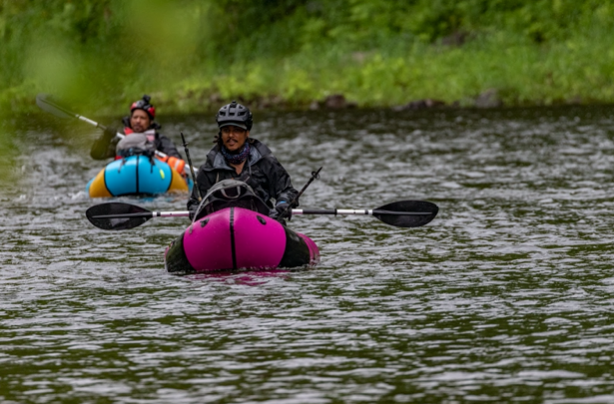 By Alyssa Godesky 
I know I am not the only one that came out of 2020 with a few more hobbies. I can bake now! I can do a mean self-pedicure. My dog Ramona can now "twirl" and "high-five." But perhaps my favorite thing that came out of the year was a new athlete title to my athletic resume: Adventure Racer. 
Okay, so, I admit - I've only done two adventure races. But: I've done two adventure races!!!! And I can confidently say that this sport is aptly named. Back in January, I teamed up with my boyfriend Matt and we completed The Big Chill, a 9 hour adventure race in central Virginia, consisting of trekking and biking stages. Then, this past Memorial Day, we completed the Two Rivers 36 Hour Adventure Race, which had trekking, biking and packrafting. So, I figured what better time to download the details of how I found my way through the sport of Adventure Racing than when I'm still a newbie myself? And hopefully some of you will join me in this sport, and we can all share our knowledge as we get better…Deal?!
Now onto some of the finer points of Adventure Racing….
Navigation
Ahhh, navigation. It seems like people either run towards the compass, or look at you like you have a third arm when you talk navigation. But I am here to tell you that even if you think you're in the latter group it is possible to inch your way over to the former and embrace the compass. Because quite honestly, if you don't appreciate some level of what it takes to navigate terrain via map and compass, then adventure racing might not be for you. Teams often have their designated navigator who takes charge of directions, but it is very helpful if everyone on the team has a general understanding of navigation. Your local orienteering club can be a great resource for this. (That's how I first learned to use a compass! Thanks Quantico Orienteering Club!)
Gear
I'm a triathlete, so I truly never predicted myself falling into a sport that needs even more gear than is already needed for triathlon. Alas, I did. Perhaps the biggest piece of gear that is common for adventure racing is the mountain bike. Races often have their own nuances with other gear requirements, but often you can get (for example) the boats required for the race, through the race organization. I would suggest - just like I tell athletes I coach who might be trying a triathlon for the first time - do your first race as a minimalist! Borrow anything you can. Scrounge around. Make things work. THEN, once you experience the race, think about starting to acquire the gear you want. You simply can't rely on other people to tell you what kind of X, Y or Z you will want. Much of it is going to come through your own trial and error first! There is a lot to learn that is just as important than having fancy gear. 
Training
The good news is if you're reading this, you already are a fan of Nuun Hydration and are aware of the need to replace electrolytes And  it means there is a pretty good chance that you are an athlete of some kind already! I came into adventure racing from a triathlon and trail running background, which made me a very good candidate for what I was about to experience. I'd suggest that if you are a road runner, start getting comfortable off-road. This might mean doing some local trail races or even just starting to go hiking with your friends or your dog once a week. Start to experience terrain that climbs, descends, is rocky, rooty, slippery wet, and bone dry. You will see it all in adventure racing!! In terms of specific fitness though, it will most certainly depend on your goals for the event. Fitness is fitness, and a strong body and lungs will definitely help you out - whether you get that through multisport, running, or hiking as your training. In fact, I thought to myself that plenty of parents are building excellent strength for adventure racing with stroller running - that is an ideal type of training! But, there is a lot of adventure racing that is skill based, so being the most fit person out there can only help you so much. It's important to investigate the skills needed for the specific race and spend time on those as well.
Resources
The first place to go is to the US Adventure Racing Association website here. There they have an entire webpage devoted to being new to AR. Facebook also is a great resource with the Adventure Racing Discussion Group and Women of AR groups. I have never seen such patience and willingness to help folks navigate a sport as I see in those groups on a daily basis! Whether you have gear questions or are looking for some help finding a team to race with, they will help point you in the right direction. And finally, I definitely recommend watching Eco Challenge: Fiji (Amazon Prime). It will make you laugh and cry and definitely get some curiosity stirring about what it could be like to do an adventure race yourself!
Photo Credit: Jeff O'Connor