NEW! Two Brand Spankin' Nuun Seasonal Flavors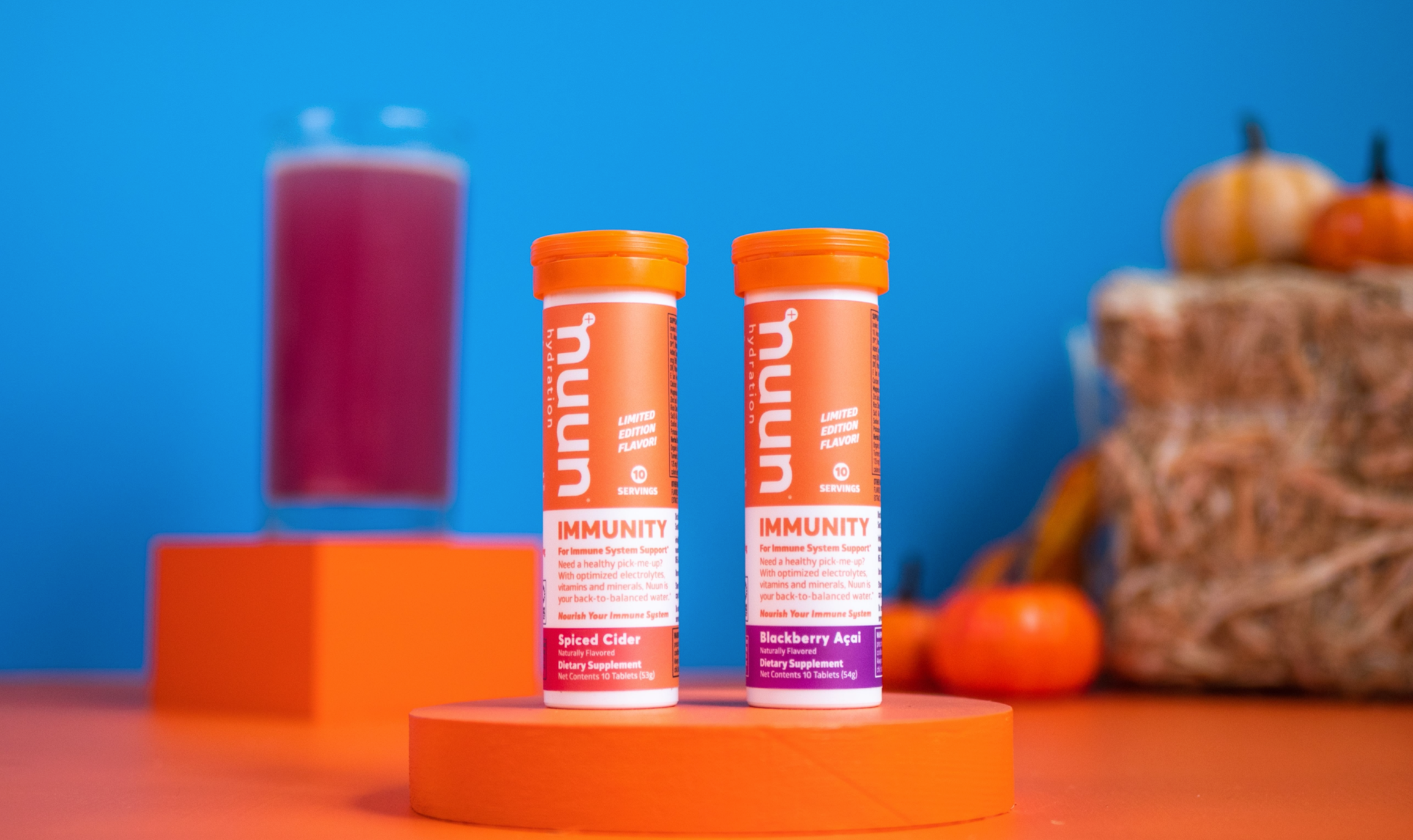 Picture yourself perusing the wares at your local farmer's market. Gourds, cornstalks, veggies, orange/yellow/red decorations, the scent of freshly baked pies, and of course: pumpkins. If you could blend that altogether? That's fall. And Nuun Immunity is bringing that fall fervor in two brand-new seasonal flavors: Nuun Immunity Spiced Cider & Blackberry Açai. 
Limited edition flavors. Limited time only!
Runners, cyclists, outdoorsy folks, fall superfans: we know that this time of year is the sweet spot to get out there and enjoy the perfect, yet oh-so-brief, crisp air. These Nuun seasonal flavors get it. They're only available in that same tight window. Once we sell out, we won't make more! And once you get to your last tube, you'll wish you had a secret stockpile. 
Supercharge your immune system, every day 
By now you're well aware that Nuun is a glass of water's best friend. But how about a warm cup of Nuun Immunity? It's nourishing and comforting, like your grandma's noodle soup.
Just add hot water to enjoy the immune-supporting benefits that Nuun Immunity is all about. Our nourishing blend is made for your everyday routine, with vitamin C (222% of your daily recommended intake!), zinc, echinacea, elderberry, turmeric, ginger, and last but certainly not least: electrolytes, for the healthy hydration routine your immune system needs.
Stay hydrated. Stay strong!
With temperatures falling, you might already be drinking less water than you were in the summer. But healthy hydration routines are just as important now, when your immune system is working overtime. Enjoy Nuun Immunity's seasonal flavors as warm or cold drinks to ensure you're getting the H2O and electrolytes you need.
Stay toasty and cozy, kick back with a thrilling read, and enjoy your new favorite seasonal drink. These two won't be sticking around long, so make sure to get your Nuun stash stocked for the months ahead.
Our new seasonal flavors of Nuun Immunity are available now, for a limited time only. Shop now >>>