Post-Partum Hydration By Alysia Montaño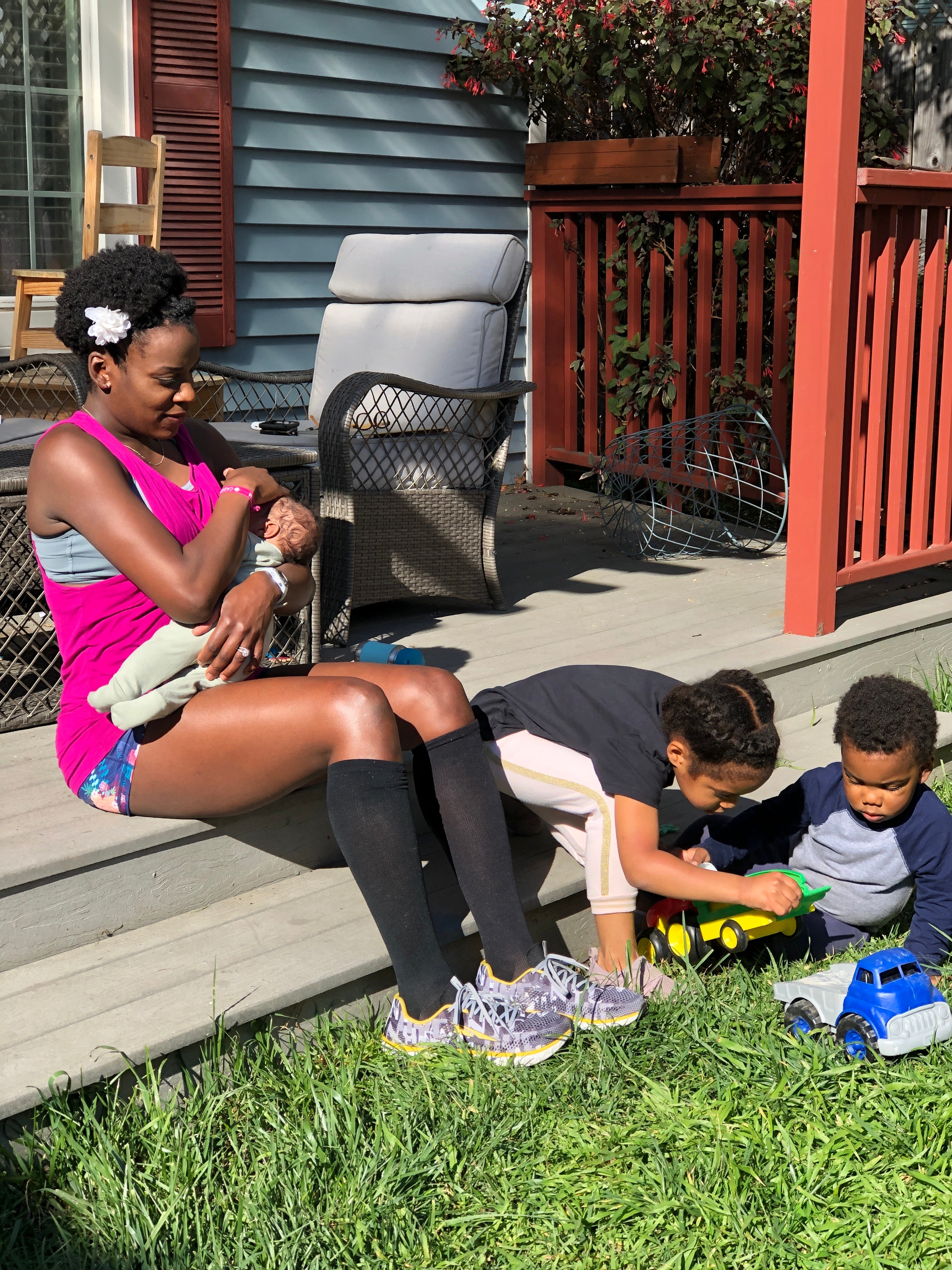 Olympian Alysia Montano shares her hydration schedule and strategy as a new mother and a currently training athlete.
I know I don't have to tell you the importance of staying hydrated in everyday life, but for the sake of this post I will share a few key facts about why hydration in general is so important.
Our bodies are made up of 60% water, much like the earth (which is composed of about 10 percent more). Our brain and hearts are about 73% water and our lungs…almost 83%! Furthermore, the skin contains about 67% water, the kidneys are 79%, and even our bones are about 31% of water. The point of these stats is to underline how we as humans require a great deal of water to function at our best. 
But what about the water/hydration needs of a postnatal person who is also an athlete?  
Did you know that Breast milk is about 90% water? If you're a nursing mother you need to drink a lot more than the standard daily recommendation for water intake. And, if you add in exercise to your daily routine (once cleared to begin an exercise routine by your doctor) that means that, well, you need to drink even more water to stay hydrated. 
Now we all know water is the best way to become hydrated, but what about the best way to stay hydrated and hold water appropriately in your body instead of just peeing it out? Using an electrolyte tablet like Nuun is a great way to ensure that your body is able to appropriately support your organs, muscles and your breast milk with the water you're drinking. 
As a nursing athlete I am intentional about my water intake. On a day when I am working out, I use a tablet of Nuun Sport and put it in a minimum of 24oz of water. I drink this in the morning with my breakfast. 
For extra nursing support, I brew one cup of Mothers milk tea and put the tab of Nuun Sport into the brewed tea! Nutritious and delicious. During the workout I will refill my water bottle that is a minimum of 24oz of water and sip it throughout the workout. * Note: My workouts are rather long and I will consume about 48oz of water in that session. Oftentimes another tablet of Nuun sport is necessary to replenish my body's mineral stores to support adequate hydration and mineral absorption. 
Throughout the day when I nurse I consume 8oz of water per nursing session, and during the night, I consume 4oz. At this stage I am not overly concerned about drinking too much at night that will cause me to wake up and pee because I am already up every 3-4 hours and I just empty my bladder before or after a night nursing session. 
The key things to remember here are: Water out, water in. Minerals out, minerals in. 
It is important to note, water and minerals are not the only thing we need in order to adequately support our body's function and hydration. During my nursing sessions (or just after) I also grab a handful of mixed nuts with cashews, almonds and cranberries to support my bodies nutritional needs. The extra calories support my milk production and physical activity. 
Here is my example schedule on a workout day at 6 weeks postpartum and clearance to begin exercise. (Note: My workouts have recently changed to the afternoon because Lennox is staying awake longer, and so I workout during his afternoon nap which is longest)  
1:00am- Nurse, then 4oz of water + handful of nuts
4:00am- Nurse, then 4oz of water + handful of nuts
7:30am- Nurse, then 4-8oz of water (morning nap with Lennox)
8:00-8:30am- I am up for coffee and breakfast
10:30am- Nurse and then 8oz of water. 
1:00pm- Lunch & nurse. Then I brew mothers milk tea, combine with additional amount of water to make up 24oz, plus one Nuun Sport tablet. 
1:30pm- Nurse and finish the rest of Nuun/mothers milk tea
2:00pm- Empty bladder then workout (have a minimum of 24 oz of water in a bottle with an additional Nuun sport tablet with my workout) 
4:30pm- Eat a protein loaded, carb and healthy fats snack, likely a smoothie. (If you need an immunity booster you can add an immunity tablet to this.
6:00pm- Dinner (8 oz of water or other beverage) 
7:00pm- Tart cherry and Nuun Rest mix (8oz)
7:30-8:00pm- Nurse and put Lennox to bed.
8:00pm- Hang with my husband for an hour (it will get longer as the youngest's schedule becomes more established and he begins sleeping through the night, but for now, rest is key.)
9:00pm- I am in bed (I'm a grandma, I know).
I hope this was a helpful glimpse into how I stay hydrated postpartum!