The LA Sweat Team Knows How To Hydrate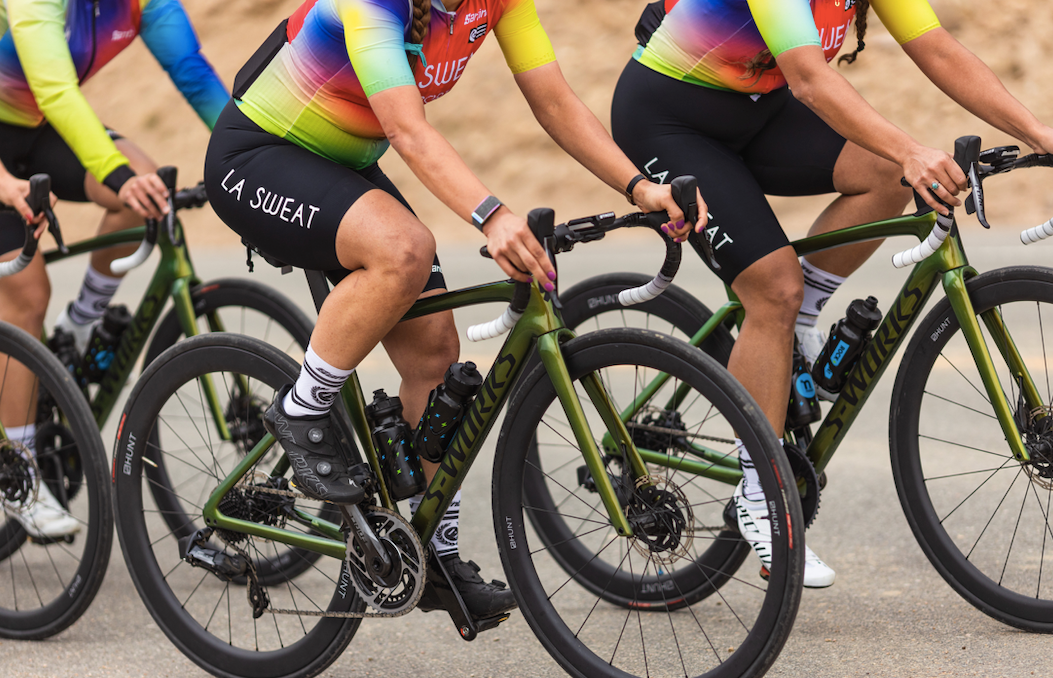 Let's talk about hydration! But who are we to tell you how to hydrate? We are LA Sweat, an elite level women's cycling team racing and training across the US, Canada and Australia. As a team we're on a mission to empower other women to cut the crap and be unafraid to just get out there and ride and taking care of our bodies to be at the top of our game is the most important. So, let's talk about hydration.
As athletes we always hear that hydration is "key", but it wasn't until I started using nuun products I realized what I had been missing. As a criterium or "Crit"  team the bulk of our season takes place during the hot summer months. The heat mixed with dry or humid conditions sprinkled in with several days spent traveling can make for one dehydrated athlete. Unfortunately,  it doesn't take much loss of body water for it to really start affecting performance.
Typically, our hydration needs will change throughout the year. During the off-season months it's colder and the workouts tend to be less intense. So depending how much we sweat, we probably wouldn't consume as much drink mix during our rides/workouts. As we get closer to the season, we all will start upping the different nuun drink mixes. This helps us find the perfect combination and really allows us to be at the top of our game for those challenging race-like workouts. So here's a quick guide of how we use each of our favorite nuun products during the season!
Nuun Tablets: There are multiple tablets you can choose from, you have Nuun Sport, Energy, Immunity, Vitamins and Rest. These are all fantastic products to encourage you to drink more water! Each one does something a little different. Sport and Energy are great to sip on as you are getting ready to race or even during the race. With all the stress the team experiences from all the racing and traveling we do Immunity and Vitamin tablets definitely come in handy to make sure we stay healthy. And finally we have Nuun Rest! This little tablet is magic in a bottle and perfect for when we need to wind down and get ready for bed. For those of you who know that most crits are finishing late at night and it can be a little challenging to come down from such a high.

Nuun Instant: The perfect off-the-bike hydration drink! If the weather conditions are going to be toasty then we will definitely start slamming these a few days before heading into a big block of racing. Ultimately you want to start thinking about hydration levels at least

2-3days leading into an event. As well as, right after your event is finished.

  

Nuun Prime: Prime is the ultimate game changer! This is essential for our race prep! You want to start consuming a bottle of this about an hour before the race! It contains a little bit of everything we will need to perform at our best! You got carbs, BCAAs, proteins, sodium, potassium and even caffeine!!!!

Nuun Endurance: We find the endurance mix ideal for inside the races. Generally our races are about 60-75mins (which isn't terribly long) but when you add in the hour-long warm-up mixed with the high intensities plus the heat it becomes essential to consume something with a little more carbs. Especially if you really really really hate consuming gels.
The moral of the story is to make sure you are properly hydrated!
Note: *Hydration strategies and the amount of liquids consumed are ultimately individualized. It's not a one size fits all.
Follow the team as they race across the country on Instagram at: @la_sweat